No J for Josh
Mike Fox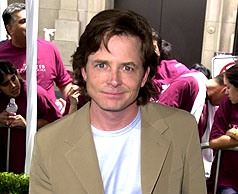 The other night, I was talking with a friend while he perused the pages of a people magazine. As he turned the page and noticed a particular photograph he exclaimed, "Michael Fox is finally looking like he is getting older now that he has parkinsons." I said, did you just drop the J in his name?" He said, "yea, I don't need to say the J. I never say Hunter S. Thompson or Vivica A. Fox. The middle initial is stupid. I like to say the name as if I know the person.
This is why I love my friend Josh Johnson…the infamous middle initial eliminator. He plays by his own rules. He does not follow the common thread of society. He drops the middle initial!
In other news, I found this picture of Rachel on the internet.
Her brother, Adam, has a website dedicated to his family. He has not updated in a long time, so the images are a bit old. Now, let's address the shirt shall we?
I personally LOVE this shirt. Still, it cracks me up to see Rachel sporting the skull and cross bones like she is a member of some biker gang. Can you imagine? Sorry Rachel, I had to do it. It is just toooooooo good!