'Twas the Night Before Surgery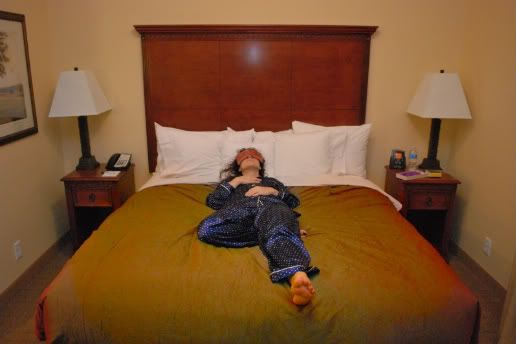 It is the night before my surgery. Here I am at the hotel relaxing in my satin pajamas, with my silk eye pillow on my face. Nice.
On Friday, my work buddies surprised me with a goodie bag full of treats that will come in handy during my recovery.
The bag contained a beautiful, hand painted card with lovely messages from my work friends, different lotions and bath products,an itunes gift card,magazines, crossword puzzles. sensory gum balls, and this beautiful eye pillow:
the gifts were so thoughtful and the work bunch completely caught me off guard when they handed the gift bag to me. It was a very comforting gesture and I love everything they gave me.
I especially love the eye pillow. It's filled with flax seed and lavender.
aaaaaaaaaahhhhhhhhhhhhhhhhh....