Music Therapy, Humor Therapy
When I am having a particularly bad back/neck day and the pain is at an unrelenting level 10, I pop on my headphones and listen to music.
It really helps me tolerate the feeling of stabbing, aching, burning, crackling, creaking, sick and twisted blackness.
About a week ago, I was treating myself with the music and I heard this lyric-
I'll find strength in pain.
Those words hit my heart and may or may not have made my eyes spring a leak. I wrote those words on our kitchen black board for inspirational purposes. Flash forward to a week later. I am at work, in a meeting and I get a text message from my husband who has taken the entire week off. I opened the message and this is what I saw: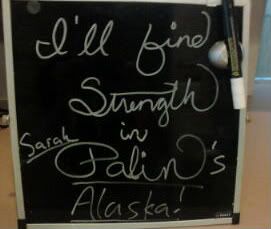 The night before, we were flipping through the channels and caught a bit of TLC's new reality show -
Sarah Palin's Alaska.
Politics aside, It is a freaky show. However, I don't think I am her target audience....don't cha know?
This Thanksgiving, I am thankful for my husband and his sense of humor and I am thankful for good music and all it has to offer.