Look Alikes
In a recent comment, my friend Jeph pointed out that my brother looks like Sage Francis. For those of you don't know, Sage has been called a battle emcee, spoken word poet, and a hip hop artist.
I myself have frequently thought that my brother bares a striking resemblance to Dave Attell, the quick witted comedian of Comedy Central's Insomniac.
So go ahead and check out the triplets already: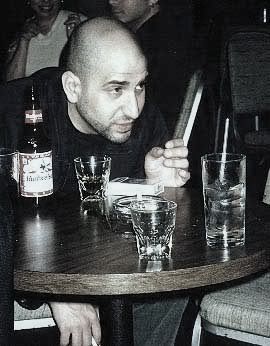 Dave, Brotha Joey, and Sage.
In other news……….
Can you believe that this woman called my husband fat?
Oh yea she did! A few days before our wedding we ran into her at the mall where upon seeing Dale she exclaimed "wow, you got fat". What a Bitch! Like she should talk! Look at that mouth…I have not seen a smile like that since Jack Nicholson played the Joker
Don't mess with my husband, cause I'll get ya!