Chuckie/Charles/Chuck
Meet the new dog: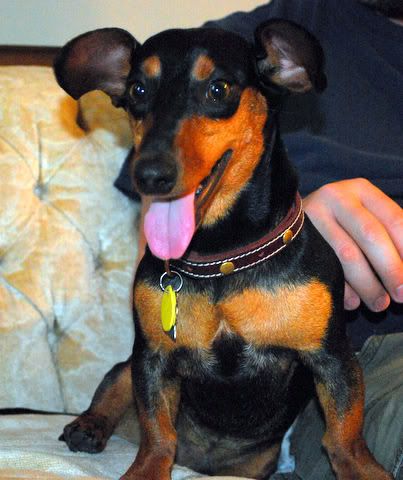 His given name is Chuckie. We adopted him from
Central Texas Dachshund Rescue
. (Shout out to Cristie Jones for sending us the information)
We jumped through a million hoops to get this fella. Currently, we have just started our "two week trial period" with young Chuck.
He is estimated to be around 9 months old but they don't know for sure. He is about as tall as Cooper but not as long. He appears to have something other than Dachshund in him as his ears are pointy/perky and he can jump vertically like I have never seen any other Dachshund do before.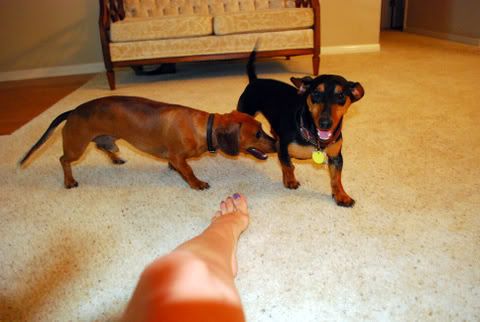 So far, he and Cooper get along quite well. Cooper has already taught him how to use the doggie ramp and is trying to teach him to use the doggie door. Cooper goes in and out....in and out....and Chuck just stares at him. Cooper pokes his nose through the door (from the other side) and tries to get Charles to go through that way but to no avail. He will go through with a little nudging and I am sure he will pick it up soon.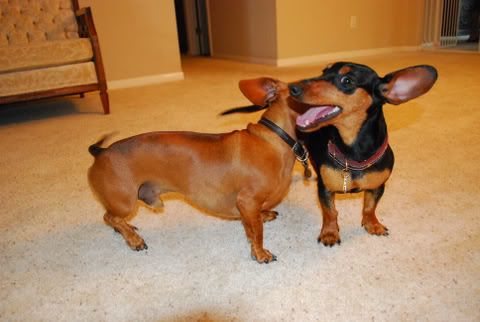 Yes, I have used three names for this Dog. I am not particularly fond of the name "Chuckie" however, I don't want to change his name too drastically. It will either be "Chuck", or "Charles"....I think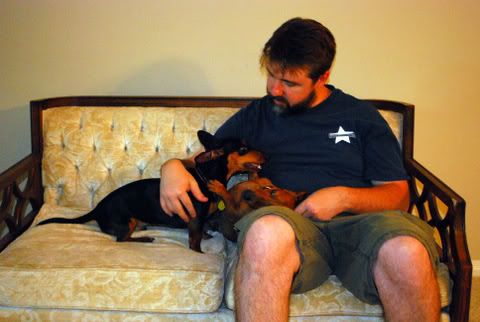 Poor fella has been through enough as it is without us going and naming him "Neberkenezer" or something.
After going through the adoption process for almost a month, they told us TODAY about the fact that Chuckie had a horrible reaction to anesthesia when he was undergoing his neutering. Apparently, he experienced something called "heart block" which causes his heart rate to drop drastically when anesthesia is involved. This means we are to try and avoid surgery with anesthesia at all costs.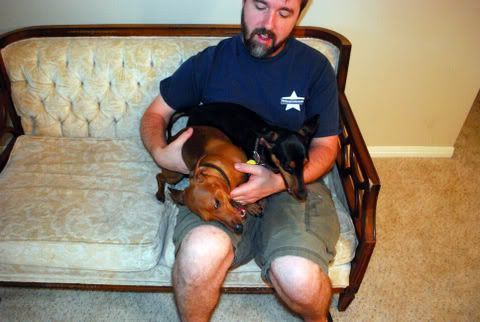 Great....that means he can't have his teeth cleaned.
It also means we must hope that he never has any severe health problems.
I gotta say...that scares me.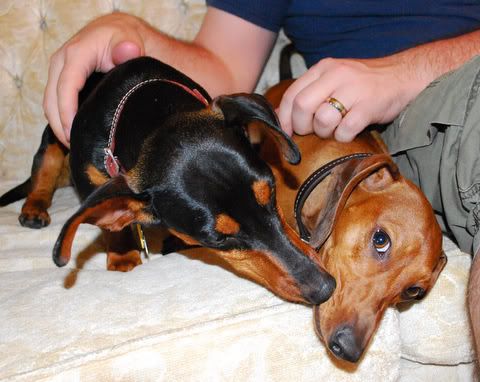 I won't let it hold me back from adopting him. Now that he is with us and getting along with Cooper so well, I would hate to send him back because of this issue. He has already lived in a shelter, a few foster homes, and at the vet clinic. He had to stay in the Vet clinic for a few days because the people from the Dachshund rescue transported him from his foster home in Dallas to Austin on Monday. We weren't approved for the adoption until yesterday evening and could not arrange to get him until this afternoon.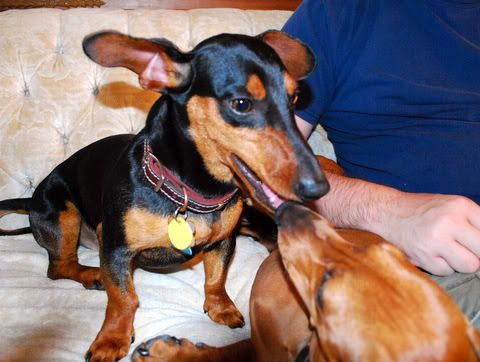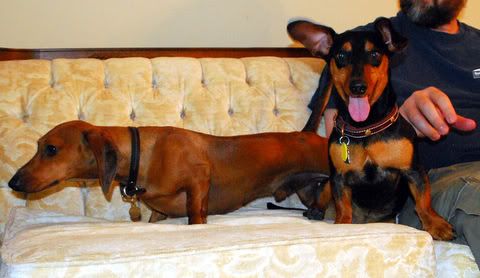 I have already given him a bath because he used to live with cats and had carried some of their dander with him. He did pretty good in the bath, considering he had just met us and had not had hardly any time to build up trust.
He is a cute little guy. Very cuddly and easygoing. Cooper is really enjoying running around with him and showing him the ropes.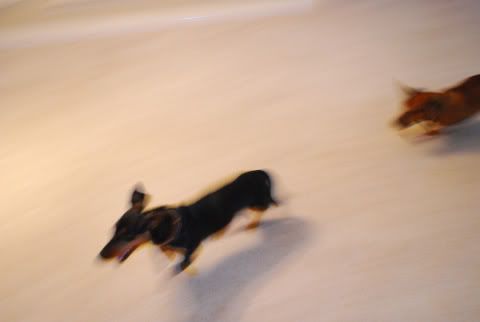 I'll keep you posted.
In other news: I almost bought a giant metal rooster. It was 3d, built out of spare parts and bigger than me. I saw it on south Lamar, yesterday, and almost bought it. After describing it to Dale, he gave me the go-ahead to buy it. I went back today and it was gone.
I am working on finding another one.
That's how the Webb's roll.
We want a giant cock to adorn the back yard.