Dad's Hand
Here is a picture of my Dad's hand. Those airbags save lives but they take your skin as payment.
That smarts.
In other news:
we may be adopting this little fella: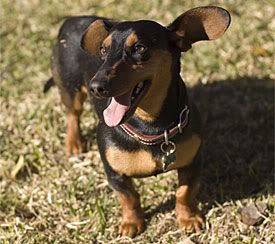 His name is Chuckie and he is 9 months old. He part Dachshund and part something else.....maybe terrier? Not sure. We met him at the Buda Wiener dog races a few weeks ago. He seems like a sweet guy. The people from Central Texas Dachshund Rescue have contacted two of our three references as well as our vet. Next, they will come out for a home visit.
If this does not work we may have to go to China to adopt a dog. I hear the process is much easier over there.
I ordered more Hula Hoop tape. I am thinking of having the hoop making party on the third weekend of May. Sweet.
That is all.