Bubble Boy
I took many, many pictures of Josh and his bubble machine until I finally got the perfect bubble picture.
Here it is: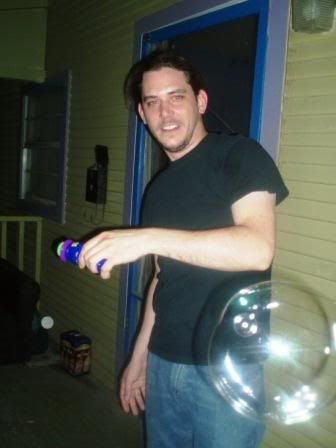 Perfect, I know.
In other news:
1. I went to bath and body works and got a ton of good smelling stuff. They are having a HUGE sale right now. I should be set on potions for my bubble baths for the rest of the summer. I was upset, though, because there was only one bottle of sweet cinnamon pumpkin (lotion) left in that joint. I got it.
2. I've been listening to Harry Potter and the Half-Blood Prince. I borrowed the cd's from Clint a while back. I find that when I listen to this as I navigate through rush hour traffic, I am not nearly as stressed as I usually am. The secret? I am not in a rush to get home as I am content with hearing the story unfold. Yes, I read the book but there is something weird about hearing some old English bloke read it to me.
3. I also stopped by express today. I did not buy anything, as they did not have anything I wanted that was under 30 bones. I hate those sales girls "can I help you", "Do you want me to start a dressing room for you" "How are those sizes working out for you" ----Gosh, leave me alone already! If I need you, I will tell you……ass!
4. anybody else feel like eating oysters and drinking beer? I do.