Sometimes, you just gotta rock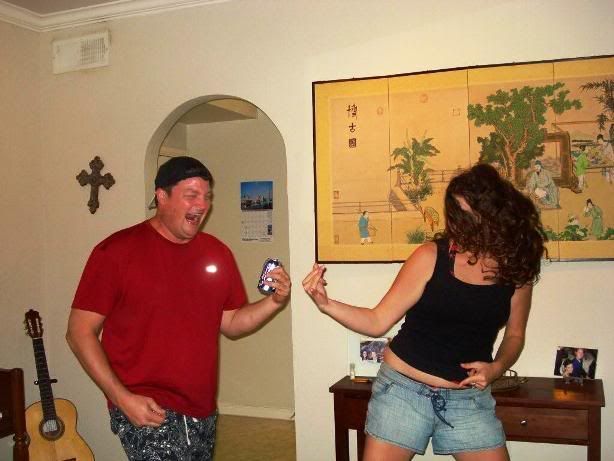 Photo by Laurie B
Air guitar is an art form. Colin and I are practicing the art as we listen to a Wolfmother song, I believe. I have a bit of an advantage, over Colin, due to my long hair. Still, Colin has the forward leg stance and is managing to hold a beer while rocking out.
I prefer the wide leg side to side stance. I go into the forward leg stance only when I am about to perform the rock and roll kick. That is a crowd pleaser.
Notice the real guitar in the corner. It's sitting there because WE DON'T NEED IT!
In other news:
I celebrated a little too hard last night. Therefore, I am staying home on this fourth of July. I have not stayed home on the fourth, by myself, EVER! There is a first time for everything. Damn those vodka tonics! They are so delicious, yet so deadly.
I have had 2 south beach breakfast burritos and 2 granola bars, today. Yum-ola!
There is a cricket in my closet. I trapped him under a hat so that Dale can get rid of him when he returns home. I don't deal with bugs. Well, I can handle Lady bugs and Butterflies. They are pretty, they don't jump on you, and they don't bite.
That's all for now.
Good day.
I SAID GOOD DAY!