more shakin', less bacon
Ooooooooooh, are you all tingly with anticipation? I know you wanted to see some more of the face shakin' shots.
Let's start off with Mike, a.k.a. "itch"
His is good because he kinda has that one eye open while the other is closed zombie look.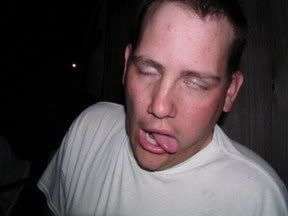 My husband Dale is next on the block. Just look at that flesh fly. Dale has very stretchy skin. The picture can attest to that.
Now, let us please view Dabner's shakin' mug.
Dabner was the fella that was giving me a lap dance in my previous post.
Ok, and now we can look at mine. I am not that good at shakin' my face. Lord knows I tried. My hair looks like I am in a 70's shampoo commercial though….does it not?