The Adventures of Rachel and Sarah…USA!
Right, so we leave coyote ugly and emerge back onto 6th street. Not sure where to go next, we chat up a few people on the street. Rachel wants to go someplace we have never been, so we decide to head to this place called "the loft". (I think that is what it was called).
As we are waiting to cross the street, two guys come up to us and one starts talking to Rachel, telling her she is pretty and what not. He asked her name and she told him it was "Sandra". I became "Kylie".
We ditched the fellas and hurried into the loft, but it was not the loft at all. It was Ivory cats. Yep, a piano bar. The loft was the bar upstairs (something I figured out right before we exited that joint). I bought a beer and tried to stomach the hip guy playing piano and singing. It was ok at first, he did U2's with or without you… not bad at all. Then, he did Georgia by Ray Charles…complete with mimicking Ray's voice almost exactly. Rachel and I discussed how it would be so much better if he sang it in his real voice. I excused myself and went to the ladies only to return to the piano guy playing Sweet Home Alabama. Oh lord. "Drink up, Sandra….it's time to go".
But not before a quick photo op: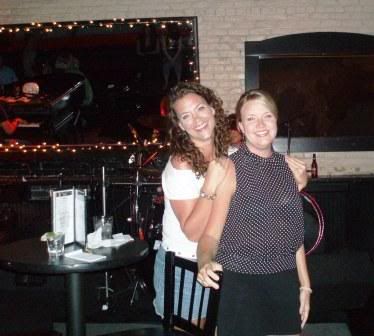 And were off.
Next stop, Maggie Mays to meet Margaret, Paul, and some of their friends. Now you may ask yourself "did Sarah finally loose it at this bar and bitch out a bartender?"
Yes, yes she did.
I ordered 2 beers for Rachel and myself and plopped down my credit card. Bartender bitch said, "there is a $10.00 limit". My beer was like 5 bucks or something. I replied "No." She stared blankly at me and I said "I am not spending $10.00 here, so take it or leave it". She then said "We are out of credit card paper, so I can't take that anyway". At this point, Rachel went to get some cash from Paul. Right before Paul got to the bar with his cash I told bitch Bartender "That's not my problem. You should tell your manager to order more credit card paper next time." She replied, "Well we just ran out". I said something like, "Oh, how does that help me now?" Paul plunked down the cash and Rachel grabbed my arm and escorted me away from bitch bartender before it got really ugly.
Then, we took this pic: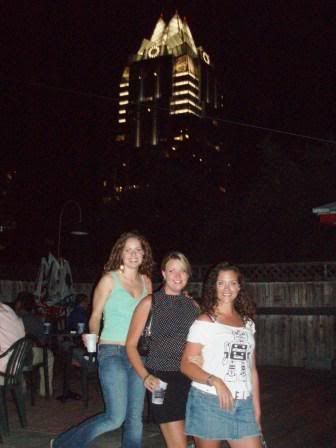 On top of Maggie Mays.
We finished our drink and went to the corner store near Josh's house for a six pack. After I purchased the beer, Rachel noticed a man pumping gas. Actually, she noticed the license plate on his car. It started out with the random 3 digit number and they were followed by the letters USA! I shit you not!
SO what are a couple of gals to do but drive up to the man and ask him about his license plate.
Scene
Rachel : "Hi, why does your license plate say USA?"
Guy: "Because I am a Judge"
Rachel: "Oh wow, so I guess it would be bad if we ever had to see you"
GUY: "Yea, you don't want to be in my courtroom. I am a federal judge"
Rachel: "Why are you dressed up"
(he was wearing a tux)
Guy: "I just got back from a party"
Rachel: "Have you been DRINKING?"
GUY: (he was frozen. Did not know what to say)
ME: "RAAACHEL!!"
Guy: "Well, yea. I was at a party"
Rachel & Sarah: (laughter)
End scene
So we get to Josh's and talk and laugh and giggle. I got made fun of for being so dark. The end…….USA