dirty 30
We had a great time, Friday night, celebrating Dale's 30th birthday. Unfortunately, not all of the pics that were taken came out that good. They camera seems to be having a problem with it's auto focus feature. I will share with you the pics that came out nice (except for one, which is fuzzy but I think it is funny).
The night started off at Laurie and Colin's casa. They bestowed Dale with a bottle of wine as a birthday present.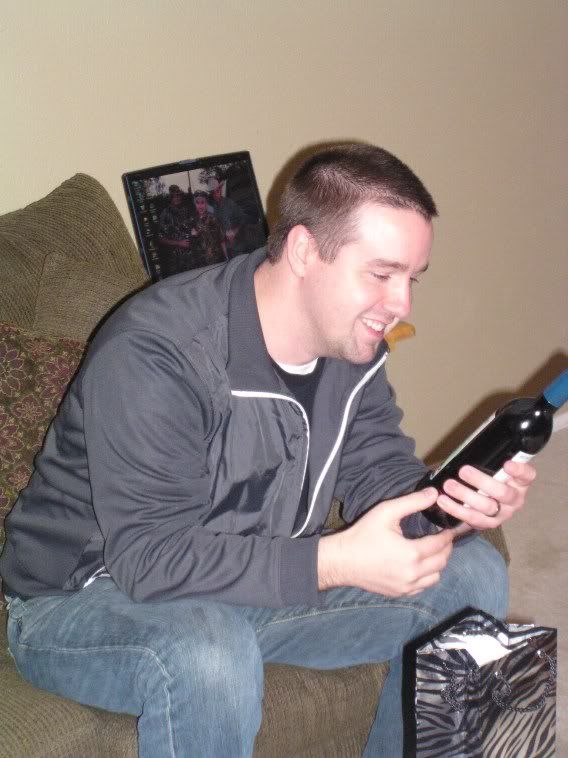 He looks so happy!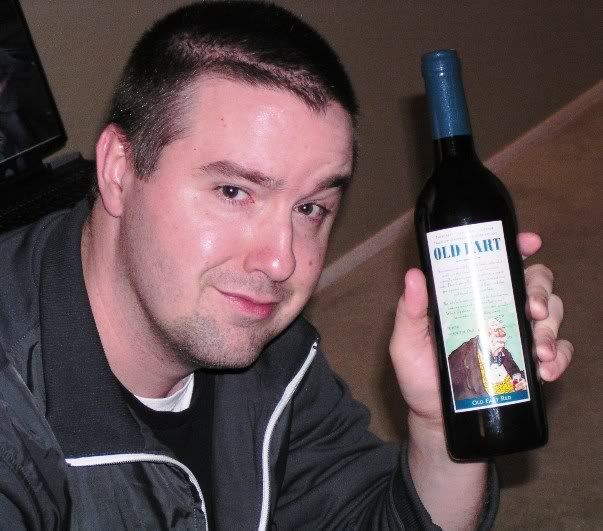 Yes, the label does say "Old Fart"
Next, the four of us hopped into a cab which would take us downtown
Fuzzy pic, comfy ride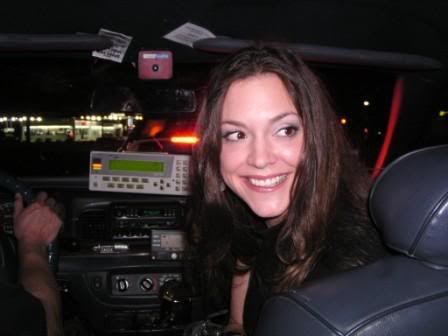 I got the front seat. Remember, kids, cab it when you can. Safety first.
Our first location station was the Casino El Camino where we all drank plenty and some of us ate. They have the yummy patent on hamburgers.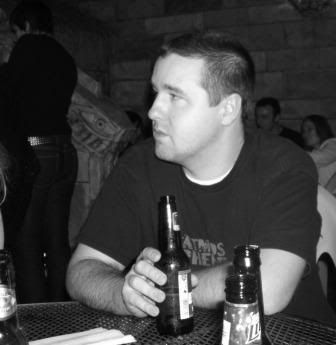 Dale enjoys a beer
Colin, Laurie, Cody, Marna, Chris, Paul, Josh, Natasha, and Margaret joined Dale and I at this location. I don't have pictures of everyone. I do have a picture of Cody and Dale taking the first shot of the evening (courtesy of Cody).
The night starts off right.
Here is one of Dale and Laurie (a.k.a. "Bean")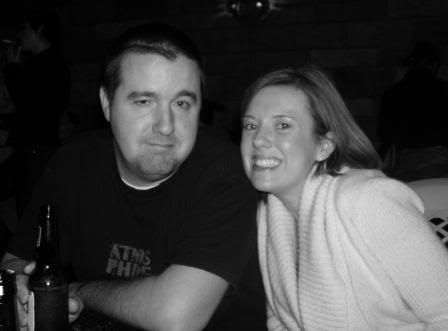 Margaret and Sarah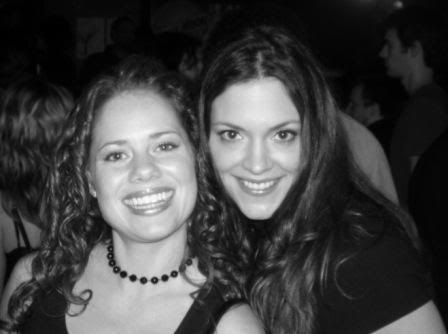 Margaret dressed "rock and roll" for the occasion.
Five of us (Dale, Sarah, Colin, Laurie, Margaret, and Chris) made it across the street to Emo's where we witnessed another bad ass performance by the Lions.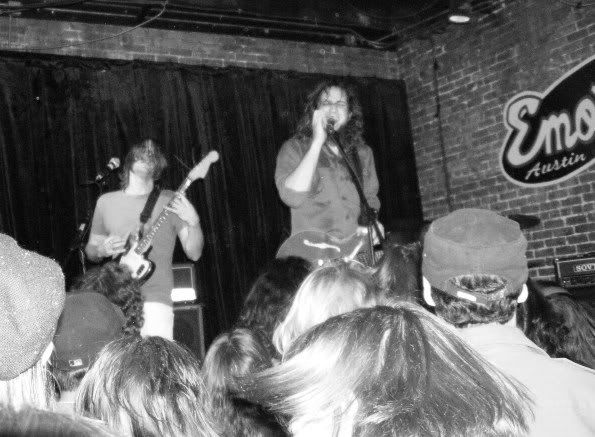 Damn, those boys are good.
I managed to get a few good shots: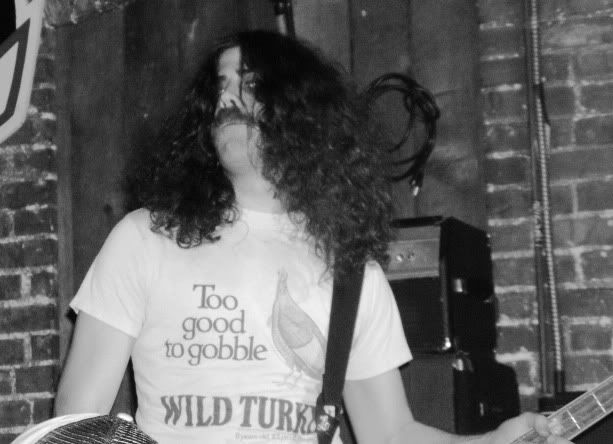 Love that shirt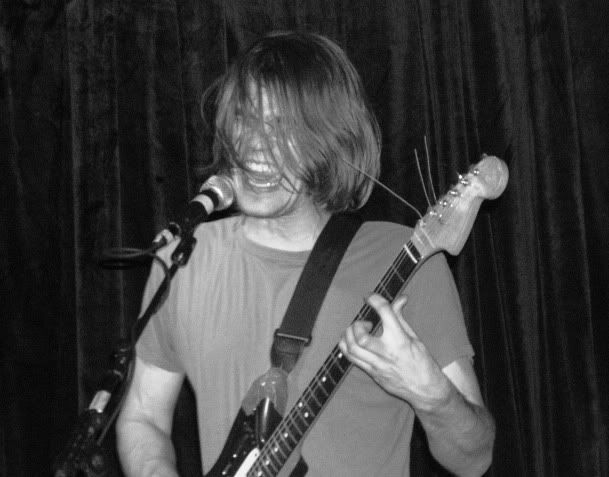 Awww yeah
Front man must have a deal with the devil to put on a show like he does
Here is Colin, grinning the entire time the Lions were playing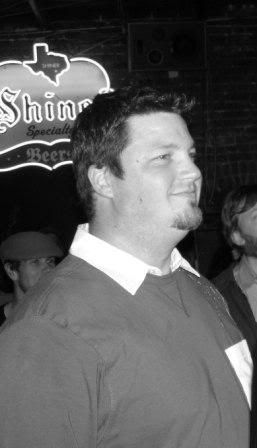 Watching them is like drinking a few jager bombs
Last one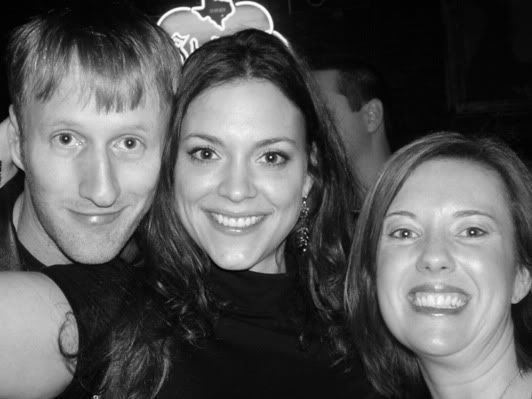 I wish I had more pictures to share with you. Dale says that he had a great time, and that he was happy to have celebrated his birthday the way we did. We do it right, yall.
He will always remember:
telling the two nice ladies from Dallas that Laurie was chatting with "Fuck Dallas! Dallas Sucks!"
Singing
Dick In a Box
to the cab driver on the way back to Colin and Laurie's
Watching Cannon Ball Run ,for the first time, the next day while nursing a hangover
Having Margaret show up to a bar that was playing Rock music and not club music.
(she enjoyed herself)
Having lots of people show up to Casino El Camino, in his honor, even though a lot of them had to get up really early
Eating pizza, once again, standing on sixth before we ventured home
The fact that everyone in attendance could not deny the bone crunching power that is the Lions (seriously, go see them when you can. Make that trip up to Dallas, or see them at their SXSW showcase)
Can't wait to do it again next year.