A True American
Rachel and Larry threw an old fashioned 4th of July party. Larry even made sure the beer fit the theme as he stocked his cooler with Pearl, Schlitz, and Coors Original (yellow bellies).
I'm not sure if it was the old school beers or the patriotism that brought out the beast in Larry but something is to blame for what happened early on in the party.
Larry lives on a golf course. His neighbor, a retired Colonel, lives next door during the cooler months in Austin. During the summer, the Colonel (I don't know his real name as this is the only thing I have ever heard Larry call him) and his wife travel to a cooler climate. Larry and Rachel keep an eye on the house for them when they are away.
Anyway, right around the start of the party we see a golf cart pull up to the Colonel's back yard. Golfers are constantly hitting their balls into the back yards of the those that reside along the course. This dude climbs out of his cart and approaches the fence as Larry watches him. He uses his putter to reach over the fence and knock his ball to where he can reach it. That's fine. No big deal. Then, he messed up.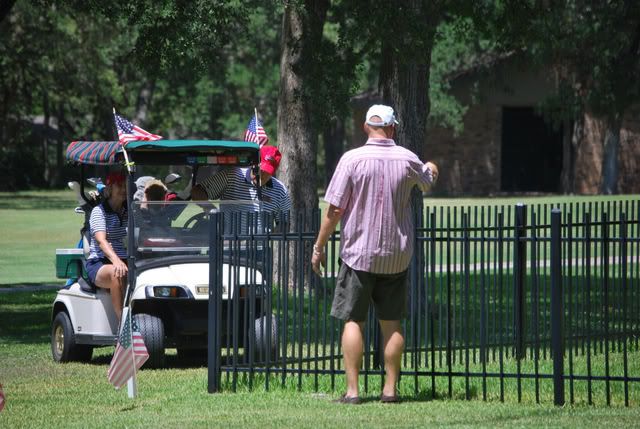 The golfer sees a few other balls in the Colonel's yard and decides to walk through the gate and help himself to the little treasures. Larry mutters "what does he think this is, an easter egg hunt?" and then yells "HEY! GET OUT OF HIS YARD!"
Before you can say "bad ass", Larry approaches the man with a walk that could rival that of John Wayne's.
I hear him giving the guy a lecture about not going into peoples yards. The lady in the cart was so nervous that she just kept a permanent smile plastered on her face.
I wonder if the man began to reconsider agreeing to the matching outfits? I mean, it's gotta sting a little extra to take a tongue lashing while dressed up exactly like your wife.
The got in their cart and drove off in quite a hurry. Larry gave them the stink eye until they were out of sight.
And then he went on to cook us the best hamburgers and hotdogs I have ever had.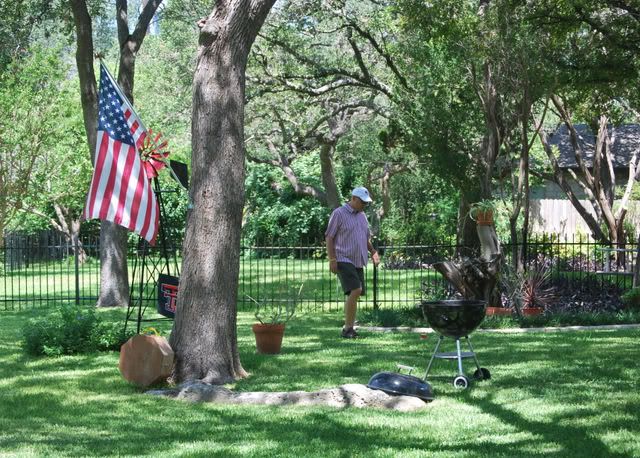 That's our Larry....A True American Bad Ass.