South Texas Soul
Hacienda played Stubb's Indoor stage this past Friday night (11-6-10). I am here to tell you 3 things:
1. It was perhaps the best Hacienda show I have seen to date (and I have seen many Hacienda shows).
2. I am amazed at the amount of GOOD shows going on in Austin, TX on any given night of the week.
3. You should have been there...again.
There were two open bands: Nic Armstrong followed by The Jungle Rockers. Both bands were really good.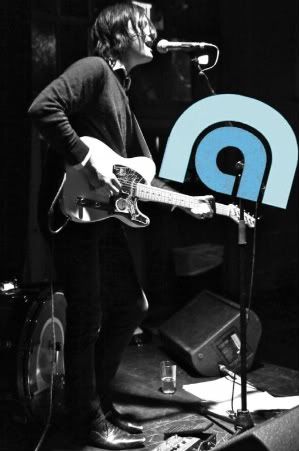 photo taken from Nic Armstrong's myspace page
Nic Armstrong
has this craaaaazy voice, cool guitar effects, and is accompanied by a drummer and that's it bub. No Bass guitar, no keybord, no tambou-friggen-rine. At the end of his set, he accidentally knocked over his mic stand to which his drummer decided to compliment this by knocking over her high hat. Nic Armstrong lives in Austin so try to check him out some time, won't you?
photo taken from The Jungle Rocker's website
The Jungle Rockers
were in matching black jackets and blue jeans. Their hair was slicked back and the bass player was sporting black rimmed eye glasses. Remember those pants that Olivia Newton John wore at the end of Grease when she was all bad-ass, smoking a cigarette and singing "you're the one that I want?"
Not one but TWO chicks were sporting those bad boys and standing in the front row dancing to the music of The Jungle Beats. Dancing is easy to do while listening to this band. They are Jungle-rock-a-punk-a-billy-rolll, heavy on the dapper dan. The man on lead guitar is DANG GOOD! Oh, and they are also an Austin band. RULE!
photo by West Vita
Hacienda
tore a new hole in the atmosphere. Let me tell you this, those guys have their chops. I swear that they put on a better show each time I see them. I can't imagine their shows getting any better. Dante came up and said hello before the show. His voice sounded cracked and hoarse. I asked him if he was losing his voice and he said yes. I said "Oh no!" and he said "Don't worry, we are still going to blow it out." That man didn't lie. Blow it out they did. The dancing continued throughout Hacienda's set. Dante's vocals were great and his guitar playing was even better. Mean, fat-back licks that will make you want to do a back bend.
Does that even make sense?
It would if you had been there to hear it. Every member of Hacienda sings and every member has a great voice. Abraham Villanueva looks pretty calm over on the side stage playing the keys but don't let him fool you. That fella opens his mouth and out comes this amazingly powerful voice that he is fully in control of.
Whew! It was an awesome show.
A while back I was checking
Dante's Blog
and was surprised to find that I had been called out as a supportive fan (click that link to see for yourselves). What can I say? I go to a lot of their shows. I got a cool signed poster out of the deal which I thought was going to be mailed to me.
Nope.
Dante had the other Hacienda dudes sign it the night of the show and he gave it to me and Dale. It was very nice. The poster is hilarious.
Photo by Dale. Ha!
So, what did you do on your Friday night? Just remember, my friends in Austin, you are always invited to go to a show with me.