Observations from Saint City
Being that my recent trip to New Orleans was my first, I was bound to learn a few things.
Here are my observations:
1. Every single New Orleanian (is that correct?) I encountered was approachable, nice, and charming.
2. Every single New Orleanian I spoke with called me "baby." As in, "what can I do for you baby?" or, "Baby, how do you want your eggs?" Or, "Oh no, Baby! What happened to your neck?"
(They did not just call me "baby." They call just about everybody "baby." They did not, however, put baby in a corner. because NOBODY PUTS BABY IN A CORNER!)
3. People in New Orleans use a statue they lovingly refer to as "Touch Down Jesus" as a marker when giving directions. I.e., "Baby, you are gonna wanna take a left at Touch Down Jesus, cross Jackson, go two blocks and your hotel will be on the right side of the street."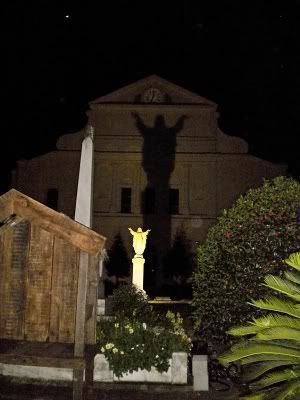 Touch Down Jesus
-Photo Credit goes to
Miss Bee
4. Coop's Place, on Decatur (in the French Quarter), has the best afternoon staff of maybe any bar in New Orleans. Their fried chicken ain't bad neither. Here we are at Coop's. The good times and vibes had by the wait staff and bartenders was contagious: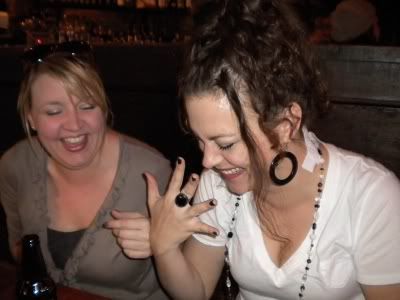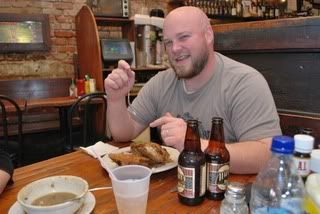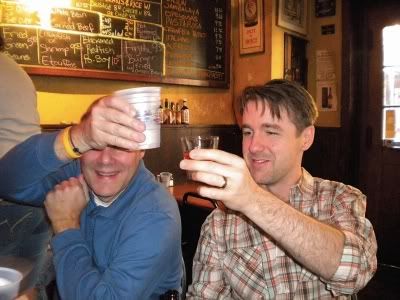 Dale's birthday shot...the first of many.
The above pics were also from Miss Bee's camera
5.Every homeless person in New Orleans can sing better than any prissy pants you watch on American Idol.
6. When in New Orleans, you can just grab a bag of fried chicken from just about anywhere. That's right! Grab you some chicken and eat it on the street! Here is Big-Lar doing just that: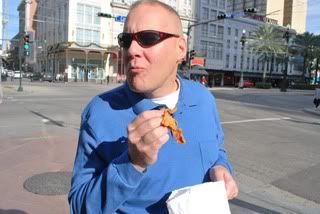 Canal street, to be exact.
I heard that Canal street is the widest street in America. Another little something I learned.
7. Austin has it's fair share of street performers (or, "performance artists") but I have not seen anything like this in downtown A-town: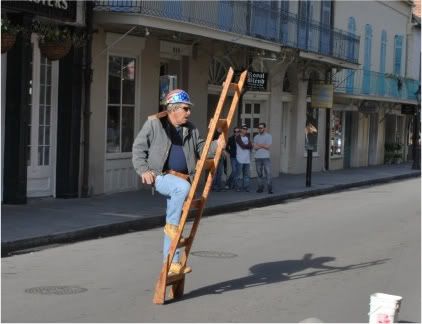 Dude stayed frozen on his ladder as he balanced that piece of wood on his shoulder. Pretty cool.
8. I don't think there is another city in the United States of America that loves their football team more than New Orleans loves their Saints. There are just signs of support everywhere! Signs that read, "Geaux Saints! We are so PROUD of you!" "We Love our Saints!" "Who Dat? Dream Makers, We Love You!" Black and gold decor can be found in every bar and if the game is on, you better be watching it and cheering on the Saints.
9. You can tell the people that live in New Orleans from the Tourists by the way they dress. New Orleanians in their 20s and 30s seemed to wear blacks, shades of grey, and dark neutrals. Tourists wear whatever....including neon green sunglasses: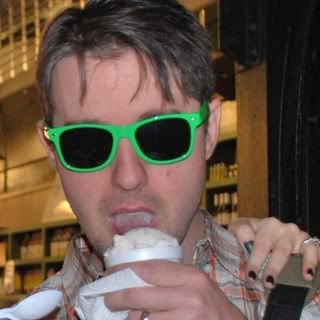 Rock it out, Big-D!