A Childhood Memory
One of my favorite memories of growing up is attending the various back yard barbeques, potluck suppers, and parties with my family. At these parties, food would be shared (after prayer), libations were available for the adults, and the kids would roam in packs.
The very best part of the parties was the music. Many of the party goers were blessed with musical talent. Heck, 99% of our church choir were in attendance. At some point during the party, somebody would pick up a guitar and signal to the others that it was time for music. You could hear the click of the guitar cases opening and the shuffle of the chairs gathering in a circle at everyone gathered for the show.
It seemed like half of the party members had a guitar. Like it was just as natural to bring a guitar to a party as a six pack of beer.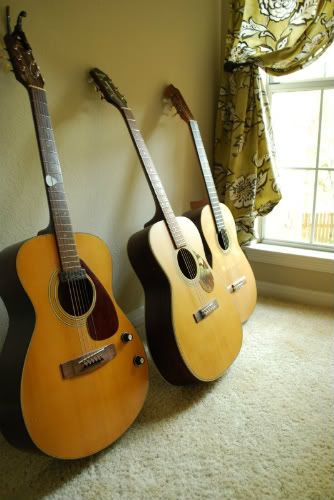 They played rock-n-roll, folk, blues.....
They would play and they would sing. There was harmony and laughter and it was magical. Us kids would dance in the background as we ate sliced watermelon while the sun set. They would play well into the evening.
My mom would sing with a voice so powerful and pure you would get goose bumps. And she was not the only one with a beautiful voice there. Nope. That was as abundant as the guitars.
When I grew up and met new friends, I would often tell them about these parties. I thought that is how everyone grew up. I thought it was cool, but not unusual. I found out later that it was something special. No, that is not how most people grow up.
I'm glad I have the memory.
I'm glad I have the guitars.