Faceless Self-Portriat
I had to really think about what I was going to do for today's photo assignment. I thought I might just focus on my hands, or feet, or knees....but I need a mani/pedi and my knees are not all that interesting.
So, you get another shot of me with a hula-hoop. It really is fitting seeing as how I love my hoop. I exercise with it quite frequently, especially in the summer.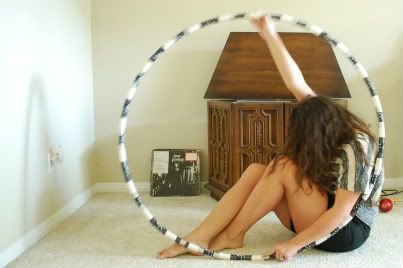 Why yes, that is a Harry Nilsson record (Son of Schmilsson) on the floor next to my record player. It's a radio copy that we bought at a thrift store.
There is a big sticker on the front that lists the song title and length. "Don't Play" is written in big letters next to "Take 54" and "You're Breakin' My Heart." If you know these songs, you know why they are not "suitable" for air play. If you don't know these songs, you should probably go and get this record
Back to today's project-
Here is a pic to go along with the assignment if you took "Faceless Self-Portriat" in the most literal definition:
Bwa-ha-ha! I look like a pod person that did not finish developing.
In Other News:
My good buddy Miss Bee had all of her wisdom teeth removed. The lower half of her face swelled up to elephant man proportions and the bruising was epic. Poor Bee. It was very unfortunate for her that she won 2 tickets to attend last nights Austin City Limits taping of Black Joe Lewis and the Honeybears during this time of pain and face distortion.
Her misfortune is my good fortune because she gifted the passes to Dale and I. Bee, I owe you one!
Here are a few pics:
Here Dale and I sit outside of the ACL Bar, waiting for the show to start. At their old studio, they would give you free beer. Now, you pay $11.00 for a regular sized bud light and one tall boy. Sheesh!
Once we got into the studio we found a great place on the floor. Minutes later, we ran into a few friends and they joined us at our spot. Running into these two made the night twice as fun. Kim and Ryan know how to do it to it.
Dale took all of the following pics with my point and shoot. He was not allowed to use the flash. Still, they came out pretty good!
There is not a bad seat in the new studio. It's pretty awesome.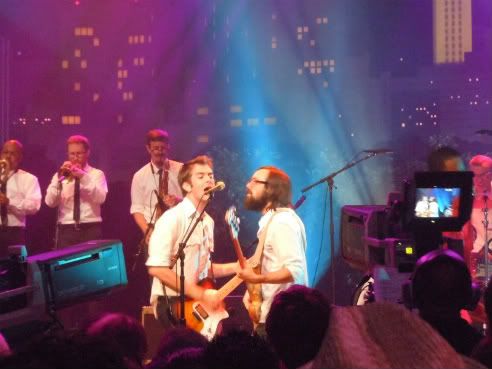 I have never seen a telecaster like this before: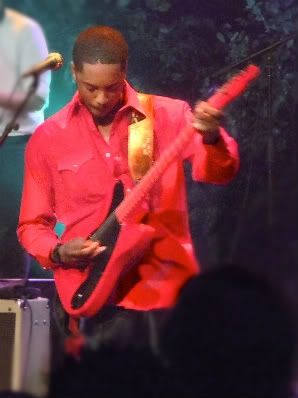 Red body, Red Neck, Red Headstock. Very nice.
The Relatives came out and did a few songs with Black Joe and his Honeybears: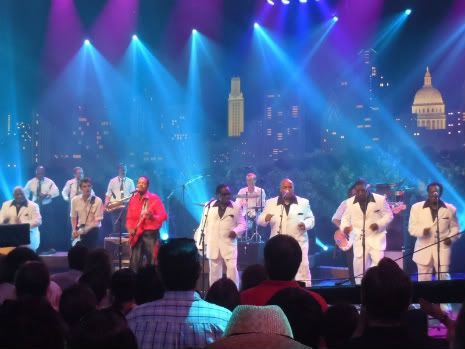 Let me tell you something...they TORE the ROOF off the PLACE!
When they performed "You've Been Lying" I could not help but dance and throw my hands in the air. My eyes got big and I would throw a look at Dale that said, "Is this for real?" I can't wait to see the show air. I'll find out when that is going to happen and let you know because you MUST witness that performance.
Must.