Shoes
Today's photo assignment is shoes, and since I could not pick a favorite pair to photograph I chose a category of shoe.
Is that correct? "a category of shoe?"
Ladies and gentleman, I give you........
CONVERSE ALL STARS!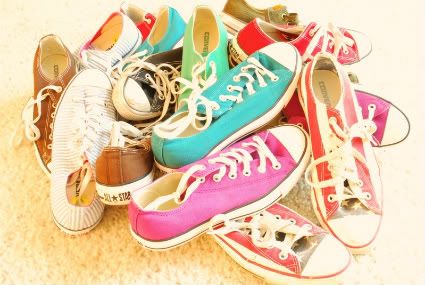 And now, a conversation I had with Dale:
(scene: I was bringing all of my Converse, stored in their plastic shoe boxes, into the living room.)
Dale: "are you going to take a picture of all of those together?"
Sarah: "yes, the photography topic of the day is shoes."
Dale: "But are you going to photograph all of them in one shot?"
Sarah: "Yes."
Dale: "People are gonna think you're rich."
Sarah: "What? Why?"
Dale: "How many pairs of Cons do you have?"
Sarah: (counts) "nine."
Dale: "Who has nine pairs of Converse?"
Sarah: "You're right, I need 1 more pair to even it out to 10."
*I only paid full price for one pair of those shoes (black ones) and I have been collecting them for YEARS!