Baddassiomonious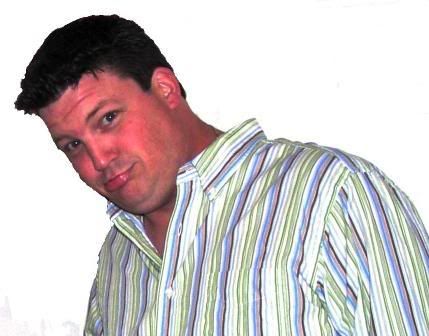 This pic was taken of Colin this past March on my 28th b-day. This is pretty much how he keeps his hair. He has a great head of hair, it is very thick and full. But there has been a little voice inside his head telling him that he needs a change. Friday night, he finally obeyed it.
Over a few beers, he decided that he wanted a new hair style. After a few more beers, he came over to my salon (which just happens to be my patio) and allowed me to break out the shears.
This is how we started: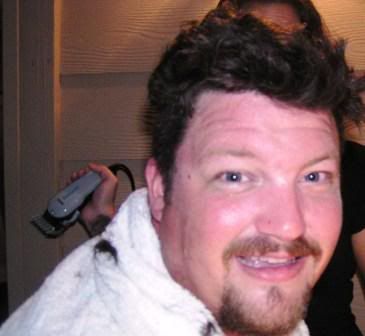 How very 1984!
And now, a side view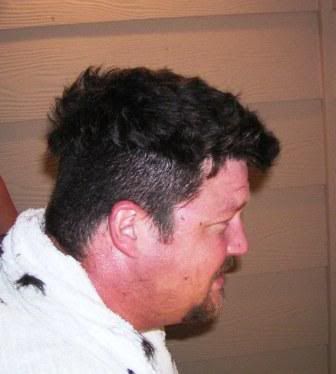 Part of me wanted to keep it that way. It was so retro that it was almost hip. But I continued on, working the shears as clumps of his beautiful mane fell to my feat. I think some of his hair might have landed in our drinks…..ewwwwwww.
The following pics are the end result of the shearing and trimming process (I had to break out my hair cutting scissors for this project). The camera flash creates an illusion that he is almost bald on the sides of his head, but do not let that fool you. He still has a significant amount of hair left.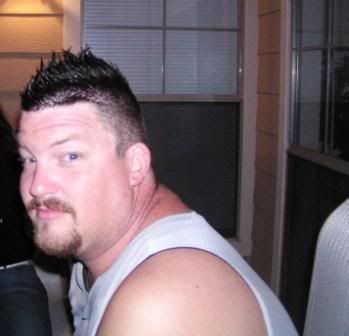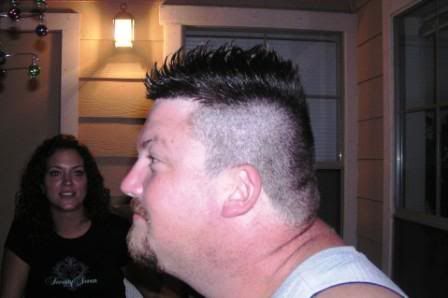 See, this one was taken w/o the flash.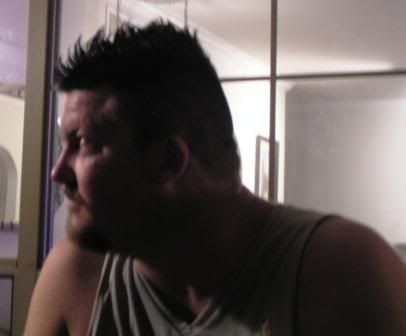 This last picture may give you nightmares. I apologize.
Here is the problem. Colin's new hair has given him a syndrome called "Baddassiomonious". Dale contracted the same thing when he first shaved his head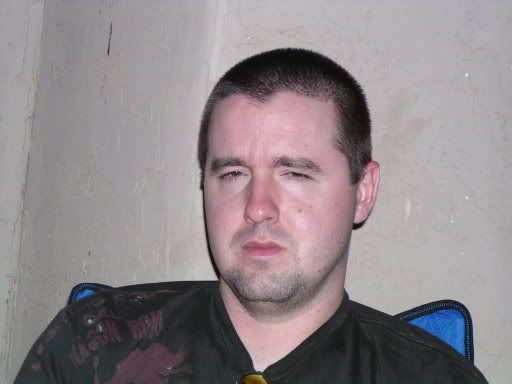 Need proof? I have a little story, wanna hear it? Here it go……..
We were at the tailgating festivities yesterday where Colin almost had to lay the smack down on a fella. I am not sure how it began but I know two things: one, these guys came and somewhat crashed out little tailgating area. Colin was not happy about that and I think he was just WAITING for one of them to step out of line.
Two, one of the guys made the very unfortunate mistake of calling Colin a "Mother F***er". Oh NO HE DID EN'!
Next thing I know, Laurie is yelling my name over and over "SARAH, SARAH, SARAH"! I looked up and Colin was just letting this guy have it verbally, he stood up and screamed to the guy "Get up! Get Up!" Holy cow! The guy remained seated, but was firing off a bunch of fast talk in an attempt to save his ass. I Got in between the two of them and tried to get Colin to sit down before he killed somebody. Just as I started to feel that I had things under as much control as possible, Dale shoots his mouth off and says "KICK HIS ASS COLIN"!
Oh Brother.
I then turned to the other guy (the instigator) and told him that if he were smart, he would lay off and let Colin cool down.
Fists were not thrown. Thank the lord!
But, Those guys STAYED in our area. They sat in the chairs provided by Colin's buddy! I Can't Believe that they did not leave!!!!
The guy that Colin could have disfigured apologized every chance he got, but I think he should have saved all of that talking for his therapist and hit the road.
What do I know.
I hope you like the pics though!