Amy meets celebs
Clint included this line at the end of a recent e-mail he sent me.
"Oh! PS! Amy met __________ and ___________ last night. With Pics! You find out your own details, bitch!"
(wow, Clint is sooooooo nice to me!)
I omitted who Amy actually met. Only Amy and Clint know for sure. The two people she met are famous fellas. Here are a few visual hints.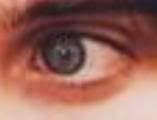 Eye of mystery man #1

Mouth of mystery man #2
So who are they?
Come on…I practically gave #1 away with that eye pic.
Maybe Amy will e-mail me the story (and the pictures) of meeting these two.