Cinnabon Coffee sucks!
Yesterday, Dale and I braved the crowd at highland mall to finish up some last minute Christmas shopping.
There we were at the Cinnabon waiting for our coffee when I saw something that made me shudder.
I had my trusty new camera with me, so I decided to take a snap shot for your viewing……uh……..well, not viewing pleasure…..um, well crap. I just wanted to show you this lady, ok?
I made dale stand by her so it would look like I was taking his picture.
Exhibit A.
The photo does not do her justice my friends. I could see her butt cheeks peeking from the bottom of those daisy dont's.
Here, take a closer look..
Exhibit B.

I pointed this woman out to the worker at the cinnabon as she handed me my coffee. I am nice like that. The worker cringed and said "OH NO!"
Take one final look
Exhibit C.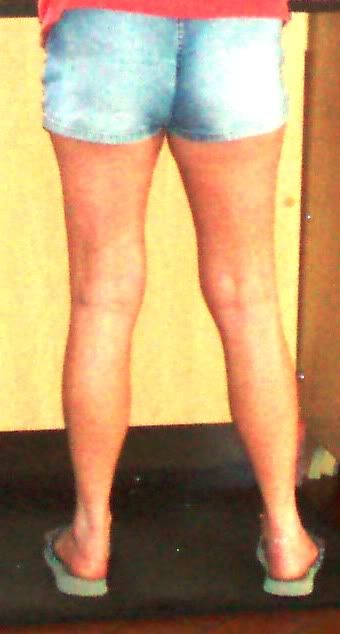 I don't care how warm it is, you do NOT wear shorts like that in December.
If you are this lady, you just DO NOT wear shorts like that EVER…even when you are by yourself listening to your Billy Ray Cyrus tape collection!
Ya'll have a Merry Christmas. And remember; keep your ass covered when in public.
Thanks,
Auntie Sarah