Dale Wins
Last night, Dale got home at about 6:45. He immediately went to the kitchen and busied himself with some mysterious project. I asked him what he was doing, and he said that he was making a surprise for me. A few minutes later, he asked if I had eaten. I told him that yes, I had just finished my dinner. He said, "ok, then eat this to cleanse your palate" and he offered me a corn chip. I ate the chip and asked him again what was going on…he just giggled and scooted off to the kitchen. At the time, I was working on a term paper so I did not chase after him as I normally would do. A moment later, Dale emerges from the kitchen with this: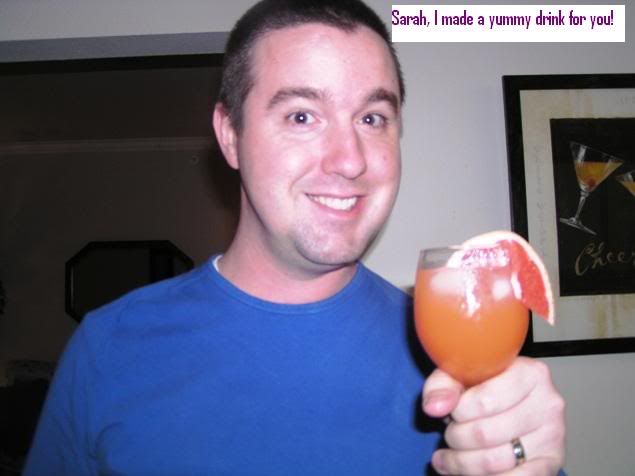 "Oh Dale, I have to finish my paper" I said. I can't drink right now.
But Dale did not give up:
I told my beloved, "Really, Dale…I just can't. it looks really good, but I need to do my paper".
He was just not taking no for an answer, and this is the last thing I remember: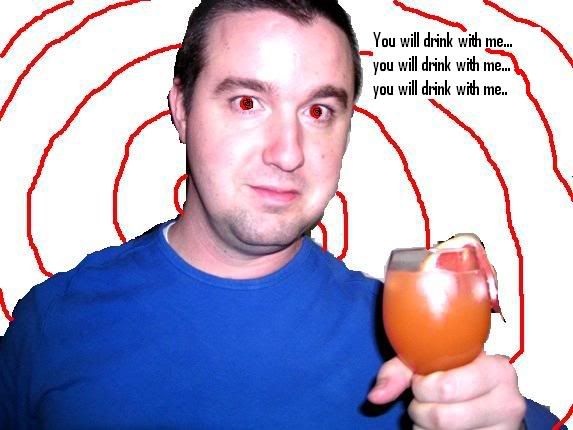 It all worked out fine in the end. I only had one drink, and I finished my paper without any troubles. The drink is made of grapefruit juice and some fine 100% de Agave Tequilla. The two substances balance each other out to where you can not taste the grapefruit, and the tequila is as smooth as silk.
The end.