Do you like music?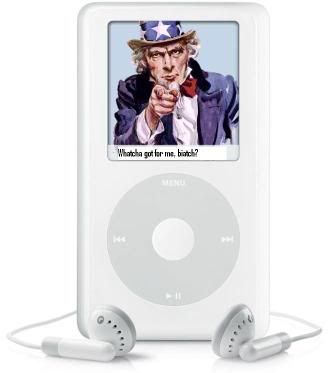 I am feeding my I-Pop, (yes, I said I-Pop..I like the way it feels when I say it), new music all the time. I have already uploaded all of my cd's on it and am currently making appointments with my friends to do the same things with theirs.
I am being selective, mind you, and only choosing the best songs on the albums. Some albums are worthy of an entire upload, like Get Behind Me Satan- the White Stripes.
I am also using the itunes music store to get singles. I just got Time After Time- Cyndi Lauper…You know you love that shit.
Anyway, I would like for my 8 readers to give me a few suggestions on songs that I should upload (is it upload or download?). So please leave me a comment with a suggestion for a song or two that I should put on the ol music machine.
I will let ya know if I got it or not.
Come on….I am addicted. I need more music.
Love, Sarah