J3, I experienced Wolfmother
"If you want to be rocked so hard your teeth shatter and you vomit limited edition Black Sabbath vinyl, then Wolfmother are the band for you." –NME
Danny, Dale, and I popped into our local Waterloo records for this band's mini showcase. It was a short performance, but a memorable one. Dale was completely won over by Andrew Stockdale's effortless ear bending vocals.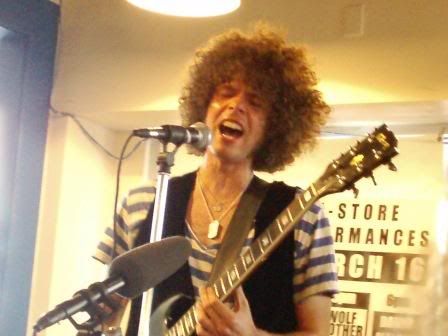 After their performance, I decided to meet the trio that is Wolfmother.
They were really nice and were well equipment with a great sense of humor. They told me that they would be playing that night at the Beauty bar which was, as the band informed me, so named either for me of for themselves (aw, shucks). We chatted for a bit, and then I was on my way to join Danny and Dale next door for some hamburgers. Before I could make it two steps away from the band, I was nabbed by a man with a video camera who asked if I would like to say something on camera about Wolfmother. IF chosen, my comments would be part of a Wolfmother documentary/press video thing-a –ma-jiggy. I spat a few word's about the band, mentioning that "a friend" had just turned me onto the band quite recently. That friend is you J3.
(we did not make it to their evening performance as Danny was keen on seeing some hip hop. That worked out fine though, cause 2 Mex put on a show like it was the last thing he had to do on the planet earth…more on that in another post).
There are much more SXSW stories to tell, but I think I may save that job for Dale. He should be writing the SXSW chronicles soon, before all of the experiences evaporate from his mind.
Next year, J3, you gotsta make it down to Austin for the festival. Danny, Dale, Lee and myself just won't take no for an answer.
"I fell down in the desert baby, yeah
I had nothing but a peice of paper, oh yeah,
I had to write something down,
And I found myself alone, then I let go of everything,
Into another dimension" - Wolfmother