yay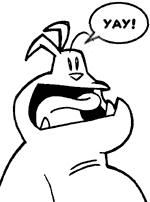 A while back, I started getting these horrible pop up messages on my computer that were pornographic in nature. I would be in class, taking notes, and BAM! A message from adult friend finder would pop up big as the sun with huge, bold, black text asking me "Who do you want to F**K tonight"?
Along with that question, several pictures appeared of topless women in various poses. Dale tried to get the damn thing to stop corrupting my world, but his efforts were fruitless.
Well, the other day I was in class and this message popped up:
A message from Adult Friend Finder
"You received this message because you were most likely directed to Adult Friend Finder by one of our affiliates who was using marketing or advertising methods that are in violation of our Terms of Use and Affiliate Agreement.
The person who directed you to our site has been banned from doing business with us. We apologize for any inconvenience that the offending activity may have caused. "
There were no nasty pictures accompanying this message. It was a plain message with a white background. This message has popped up a few times, and I am hoping it will eventually stop. Still, I would much rather have this thing surprise attacking my ass than it's alternative.
So thank you, adult friend finder, for realizing that I do not use your services. I really appreciate that. Also, Fuck you, adult friend finder, for putting me on your nasty ass porn list in the first place. Your virus pop up has made it quite embarrassing for me to take notes in class. I am sure at least one gal that has sat behind me at some point probably thinks I am a swinger.