Midnight and Then Some
Juan kept track of time as the minutes passed bringing 2009 closer and closer to an end.
10, 9, 8, 7, 6, 5, 4, 3, 2, 1, "HAPPY NEW YEAR!"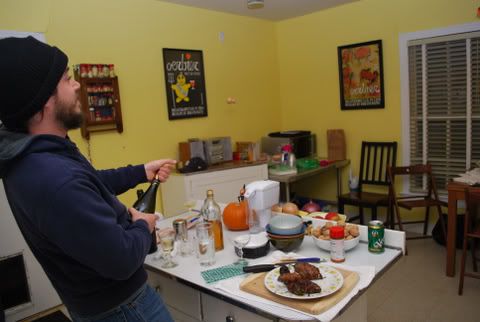 Actually, this was taken some time after the official NYE bottle of champagne was opened. I tried to get a picture of Josh opening the champagne with the cork-a-flying, but I failed. Thankfully, we burned through the first bottle of champagne and Josh opened the second bottle. Tirzah was behind the lens and caught the action. This is my favorite photo of the night.
A champagne toast. The older I get, the more I find that I enjoy champagne. When I was younger, I would throw back the tiny bit during a NYE or Wedding toast but never asked for more. Now, I find myself getting a refill and savoring the flavor. In fact, I would love a mimosa right now. I still want to have a mimosa party this spring. Imagine a big breakfast, served outdoors, where the gals wear hats and dresses and the boys wear whatever. We can all drink mimosas and eat mini quiche. I think we should do it on March 20th (the first day of spring and the month of my birthday) and I think Larry and Rachel's back yard would be the perfect place. It needs a catchy name.....hmm....you think about it and get back to me, mmmmmkay?
The Kisses: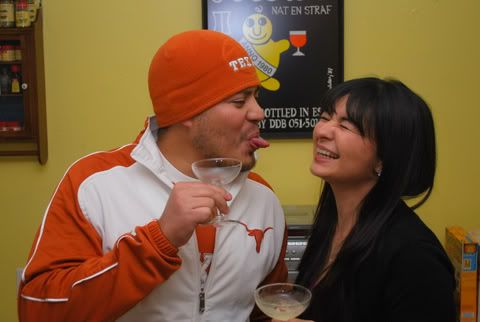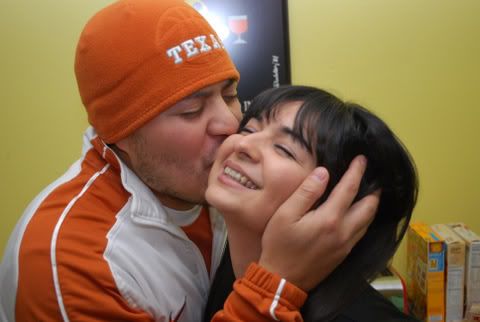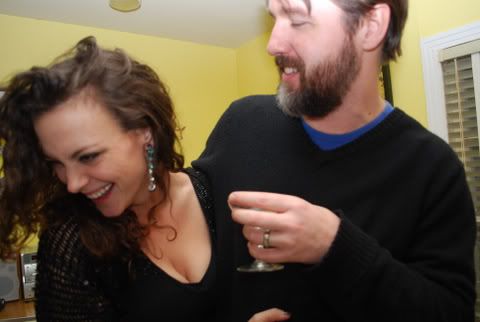 I don't remember what Dale did to make me laugh.
A special greeting for Juan:
Actually, I simply just wanted to click our glasses together but Juan had to throw in the bird. I am not one to receive without giving so I returned the favor.
Gotta go. You have yourself a good day and try to stay warm.
Kiss kiss.