NYE Wrap Up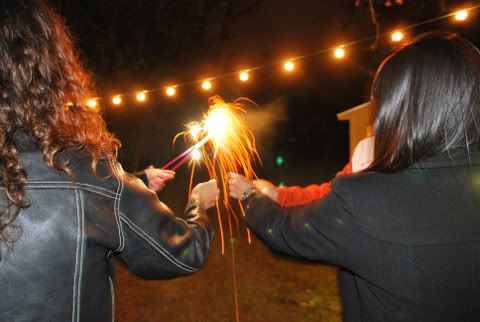 I have always been a sucker for sparklers. Maybe it's because they are just about the only thing you can buy at a fireworks stand that I am not afraid of.
Plus, they make pictures much more interesting.
By the way, you notice that Reyna now has bangs? Just when you thought a girl could not get any prettier, she does.
And then there was Josh.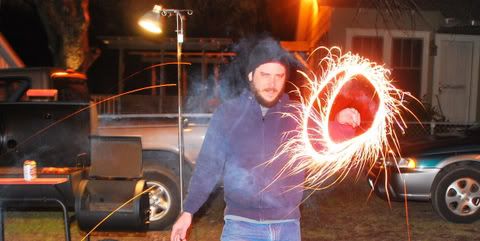 I should mention that Tirzah took all of these sparkler pictures. Thanks, Tirzah!
Oh my gosh! As I am typing this my dog, Cooper, is standing by the bed whining. I don't know what he wants and he won't shut up! AAAAAAAAAAAAAH! I can't think! That high pitched noise has burrowed into my brain! I wish I had one of those dog collars, featured in the movie UP, that allows dogs to speak English.
I totally cried during that movie. I cried and I hugged Dale. Ok, what really happened was that I cried and curled up in Dale's lap. I hugged is neck as he rubbed my back and gently laughed at me while telling me that everything was ok.
Such a baby.
Back to the sparklers: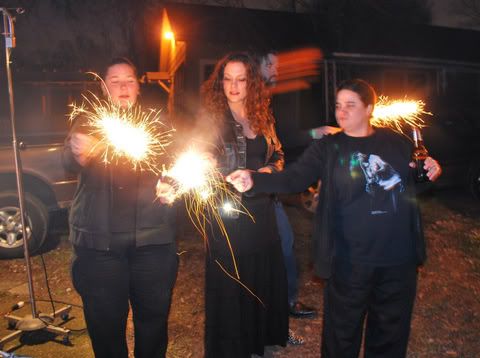 We Three Witches. (Misty and Mandi showed up just after midnight. they had to have their NYE kiss in the car, on the way to Josh's. It does not matter where you are when you get that kiss, only whom you are with).
Why oh why didn't we spell out 2009?
Still pretty cool.
Juan,lit up, lights it up.
I actually had his permission to post his image on my blog this time.
You've heard of Bob the Builder.
Meet Josh the Welder.
Two things to notice in this picture:
1. Reyna's heels have sunk into the ground. The next day, we noticed several little "heel holes" in the yard. Josh and Tirzah were happy to have the yard aerated.
2. Cool sparkler spark.
Jazz Hand:
Snow leopard
Yes, those are my boots. Yes, I know they are...um...unique. Yes, I did take to the couch. That is what happens when you have not had any alcohol in a long time and you break your sobriety streak by having 4 glasses of wine.
Finally! The NYE posts are done!