Adventures in Textiles
At the beginning of the summer, I decided I wanted drapes for a window in my big living room. Choosing the drapes was a big deal because the design and color of the drapes would help determine the rest of the future furnishings that will eventually make their way into that room. I looked at the typical stores (Bed Bath and Beyond, Peer One, Crate and Barrel) but could not find anything I really wanted. I looked on
anthropologie's
website and found that I loved almost every single thing they offered in the curtains category. I did not like their prices. A couple of panels could run me more than $500. Seriously!
We own a dang ol' sewing machine, folks, and I know how to use it. Well, I know how to sew very basic things. Pillows, tablecloths, etc. I figured drapes couldn't be so difficult.
I found this amazing fabric at Fanny's fabric store on South Lamar. BEST FABRIC STORE EVER! I needed 5.5 yards of this particular fabric and they had to order it - and it was on back order - and I had to wait. When it finally arrived, I bought some beautiful lining material, some sheer curtains to compliment the heavy drapes, and some corded tie backs.
Here is the end result: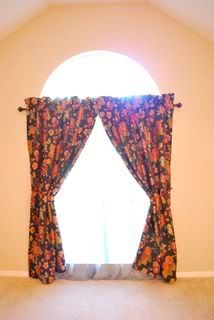 The fabric itself is very heavy. The background is almost black, but not quite. The floral design is embroidered in many beautiful colors. *sigh* I loves it.
Sheer curtains are inexpensive, so I went ahead and bought those. I may go back and hem these (the sheers), but I may not because I like the billowing look that is happening at the bottom.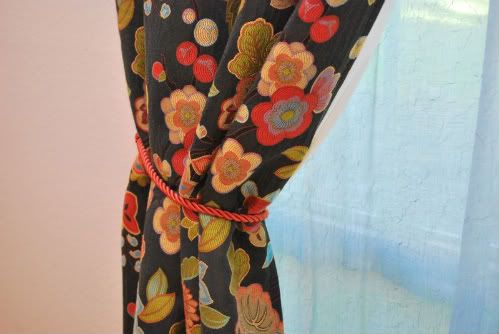 The sewing process did not take as long as I thought. I had to make sure I planned it out correctly. That took the most time. The prep work took a few hours all together. This was mostly just ironing and pinning the hems.
Any-hoo, I am proud of myself. Now If only I knew how to reupholster furniture.....