Lady GaGa: The Review
We arrived at the American Airlines stadium, stood in line with a shocked young couple from Alabama ("We've never seen anything like this before!"), walked through the costumed heathens, and made our way to the merch table so that Clint could buy a few souvenirs. After that, we went up-up-up to our seats. Amy, Clint and I sat down and had approximately one minute to enjoy the view before a woman came up to us and said, "excuse me, I work for American Airlines stadium. Would you like better seats?" With out question, we followed her down-down-down to a section that was located at the side of the stage. Our original seats were good, but these were great!
Amy took most of the photos with her point and shoot digital camera.
We missed the opening act and were only in our seats for about 10 minutes before the show started.
Lady Gaga's concert is more broadway show/rock opera than it is pop show. That is what I am assuming because I have never really been to a big pop-concert. I have been to more than a few broadway plays, however, and her show reminded me of those.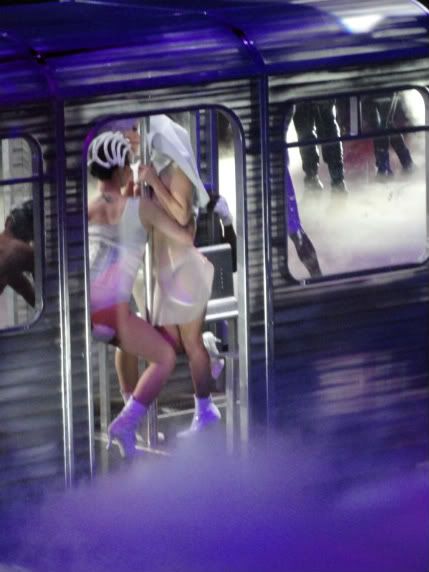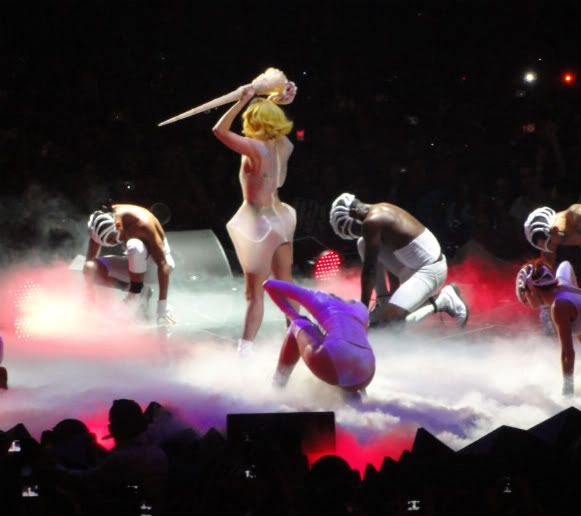 big screen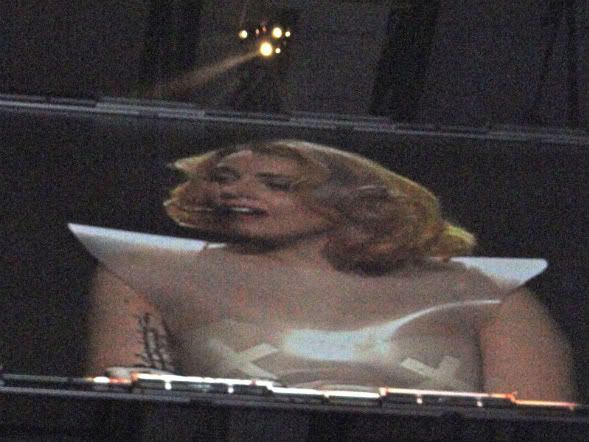 Though her music does not match up with what I typically listen to, I knew a handful of her songs from watching her videos and various television performances. I will admit, I am a sucker for her schtick. What I mean is that her costumes, bizarre hair and make-up, and theatrical use of fake blood pull me in. If that Lady is on the boob-tube, I will usually take a moment to watch. Of course, she is not the first to pull such moves. There was Bowie, and Alice and Iggy (though I think his blood was real), Manson, and Madonna (minus the blood). She is the first of her generation to be noticed (on such a public level) for using these strange tricks of the trade.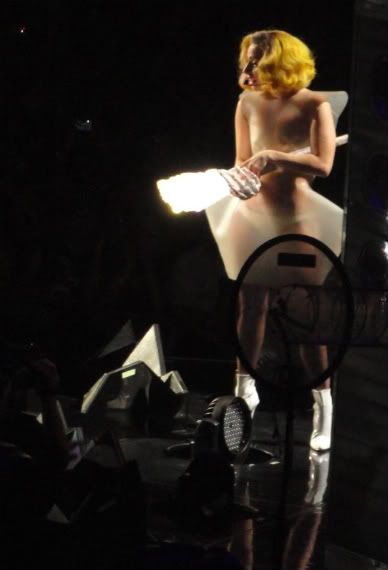 After hearing her live, I can say that she is a very talented singer and she knows her way around a piano. Her voice was always on point, even when she was screaming which happened almost every time she addressed the crowd. It would go something like, "I just want you to know how MUCH YOU FUCKING MEAN TO ME, DALLAAAAAAAAAAAS!"
In the above photo, she was using that giant light stick to look into the crowd and talk to her "little monsters" on a more personal level. There was a toddler in the audience dressed like a little Gaga in the red lace outfit she wore to last year's video music awards (google it). Big Gaga noticed the tot and said "you are going to give your daddy lots of trouble when you grow up."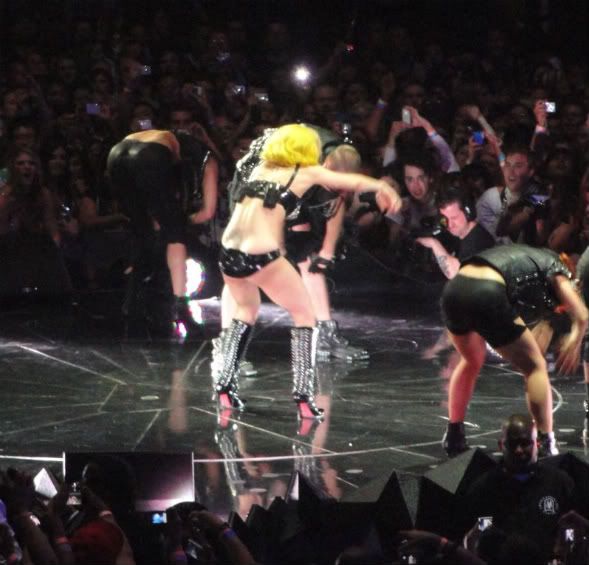 She had a nice message for her fans. She said that Jesus loved everybody, both gay and straight people. She said gay people were born that way. She said, "Rah Rah ah-ah-ah, roma ro-ma-ma, GaGa oh la-la, want your bad romance!"
And she wore this dress that moved!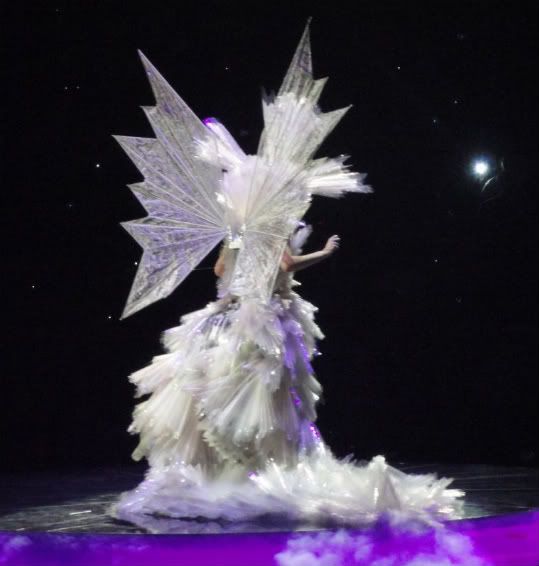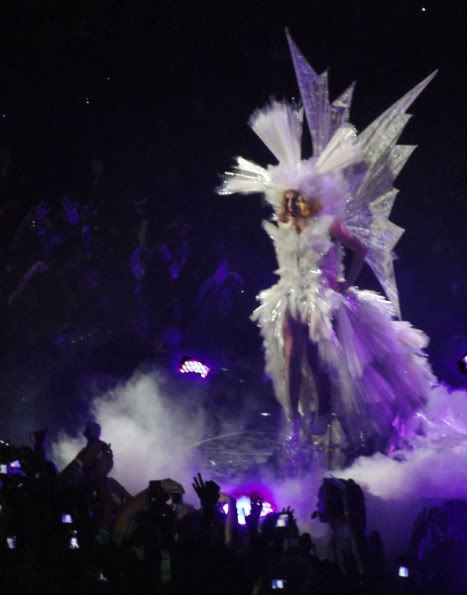 well, the headpiece moved. It was pretty cool.
Massive Crowd
Watching the show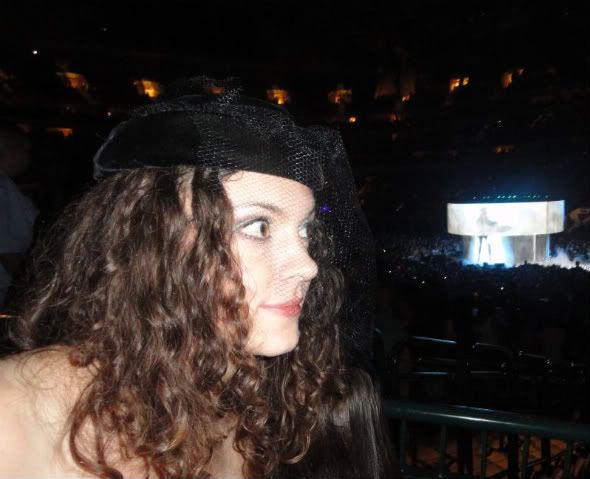 Naughty bits o' fire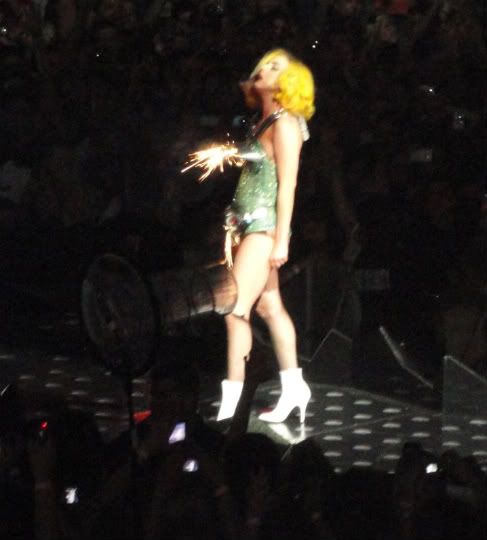 Did you know that GaGa fans have their own hand signal? It's called "the monster paw."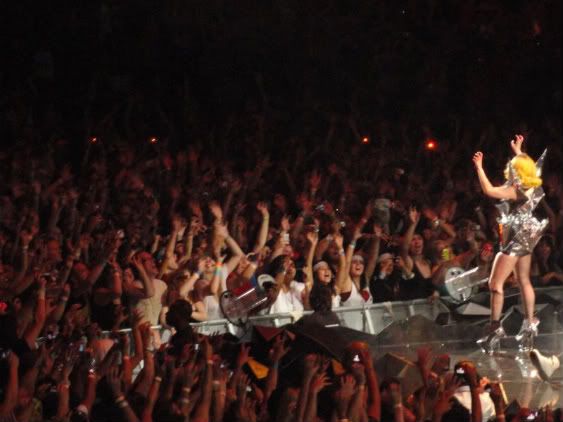 Here, I'll show you: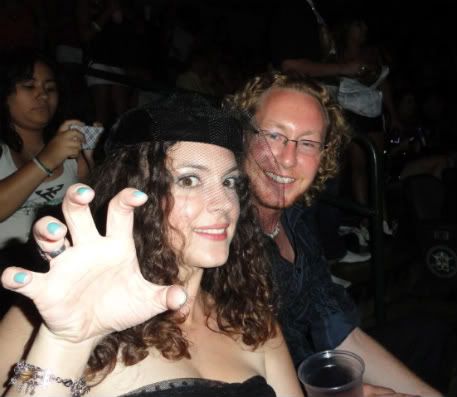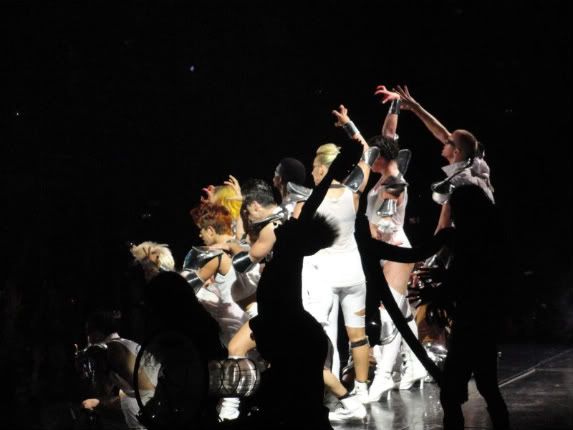 Amy and Sarah: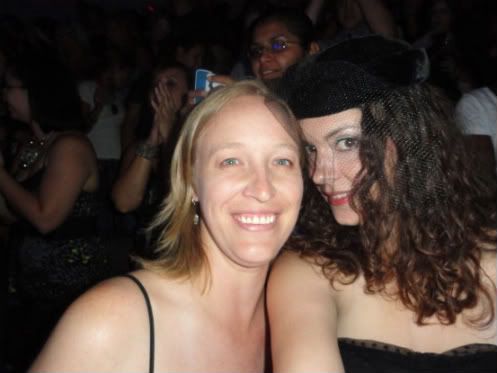 Though I did dance along to the encore performance of Bad Romance (hey, when in Rome...right?), I could not stand during the entire show. It's the dang bulging disc in my neck. That shizz hurts, people!
Clint, the reason for going to the concert in the first place, LOVED it.
And that alone made it worthwhile for both Amy and myself.