The New Blue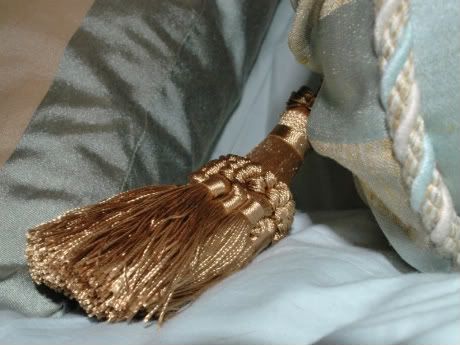 What's this you see? Why it's a new fancy pillow to go with my new fancy bedding!
I have always wanted one of these tootsie roll pillows:
Are you thinking,
"What the truck? Why do you have new bedding all of the sudden? You didn't tell me you were going to change things around up in here!"
Let me explain. Ok?
I was looking at this piece of embroidered silk I have hanging in my bedroom: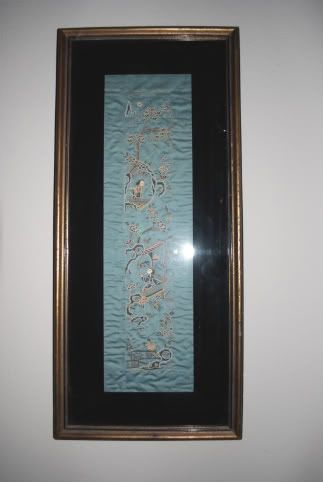 and I was thinking about how much I like it's color scheme.
Here is a close up: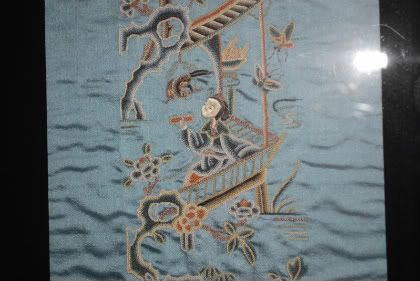 I didn't really capture the true colors, but you get the idea. In real life, it is more of a grey-ish ice blue background with indigo, honey, soft beige, and taupe accents
Any-hoo, as I was admiring it I thought "hmmm....I would never think to put those colors together."
I had been on a crimson kick but was beginning to grow tired of that shade.
These are the colors of my previous bedding. I'm not sure why the comforter is missing in this photo...you get the idea.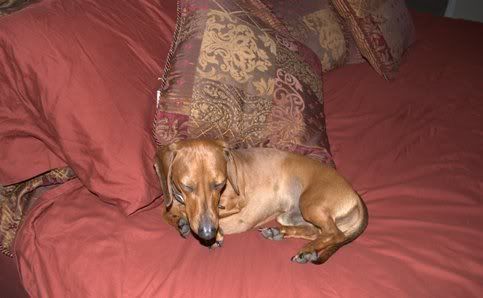 Ok, back to the pretty blue colors. As I looked at the embroidered silk I purchased many, many years ago at a yard sale I thought "hmmmm....I want to put those colors together and re-do my bedroom."
This all started when I decided to make new drapes for the big room. Those drapes turned out so nice, I decided to make drapes for the bedroom as well. I couldn't decide on a color until now, thanks to the embroidered silk.
(Actually, my old drapes don't look that bad with the new bedding. I still want to sew my own, but I can hang with these while I am making the new ones and it wont drive me crazy.)
No sooner did I decide to change the bedding when I got a mailer from Tuesday Morning with this sucker on display:
I knew it was meant to be.
Decor Karma.
Here you see the bedding with my current drapes in the background.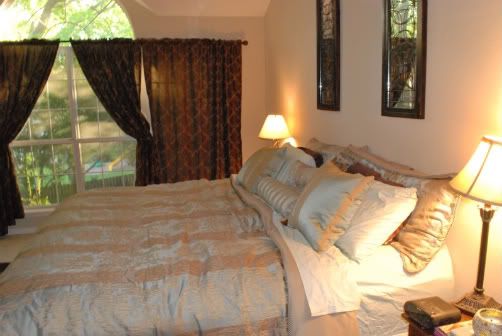 All the pretty pillows: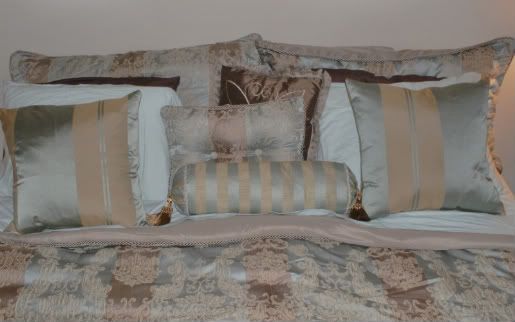 And a cool candle holder:
Eventually, I would like to buy new lamps, new nightstands, a new ceiling fan, and a new dresser. One thing at a time, sweet friend. One thing at a time.