Deer Tick @ Emo's 10-13-10
The thirteenth of October was a Wednesday. Wednesday is a work day, and so is Thursday. I am far from the age of being able to go out, drink a bunch of beer, and be in the front row while watching a band that kicks your favorite band's ass...but I did it anyway. Well, minus the drinking. I'm not delusional.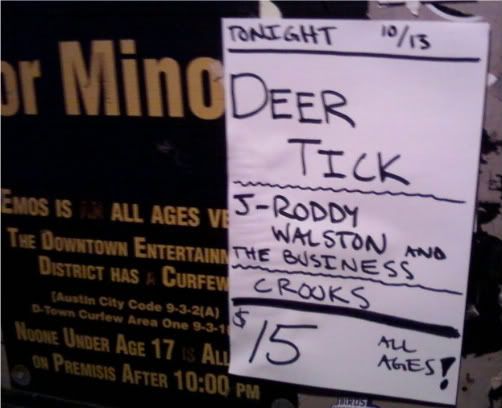 I'll talk about the two bands that opened for Deer Tick (J-Roddy Walston and The Business and Austin's own Crooks)in a later post. They were both great.
But now, let's just talk about Deer Tick.
This is John McCauley's(guitar, vocals, shenanigans) finger slide. I found it amusing. I wonder if there is a story behind this? Was it Joe Perry's actual guitar slide? Wait...let me google this bitch.....mmmmkay, we can all purchase this
Dunlop Joe Perry Boneyard Signature Guitar Slide
that was designed in conjunction with Aerosmith's guitarist for $15.oo. Thank you, internets.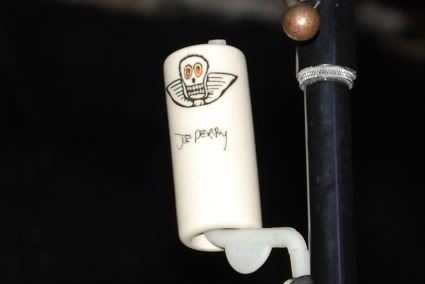 First, let's meet the band:
This is John J. McCauley III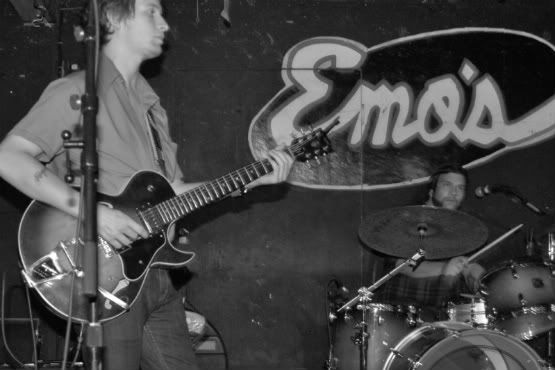 Ian P. O'Neil (guitar, vocals) and Dennis M. Ryan (drums, vocals)
Rob B. Crowell (keys, organ, saxophone, vocals)
John with Christopher D. Ryan (bass, vocals).
All together now:
This photo was taken towards the end of the set. Ok, so I only stayed up front for half the show. Sue me. #1.I had to pee (which meant I had to leave my post up front) and I did not want to push my way through a sea of 19 year olds to get back to the front. This show was open to all ages and the young'uns had taken up residency up front so that they might get a chance to touch a band member (or a band's member hey-ooooo!). #2. Dale and a few friends had camped out in the perfect little nook by the sound mixer's booth and I wanted to join them. #3. Although the energy is better up front, the sound is better in the middle center, which is where I ended up.
Any-hoo, the show was awesome. I really do believe that any one of you could walk into a Deer Tick show and find yourself thoroughly impressed and undeniably entertained.
You may also find yourself smelling of cigarette smoke...even if you were, like me, attending a show at Emo's OUTDOORS.
I mean, we were outside people! Normally, you come home reeking of smoke if you were at some bar in Pflugerville (where they still allow smoking inside of their bars and clubs). At this Deertick show, the band smoked an so did almost everybody in the frontmost section of the audience.
Speaking of the Audience: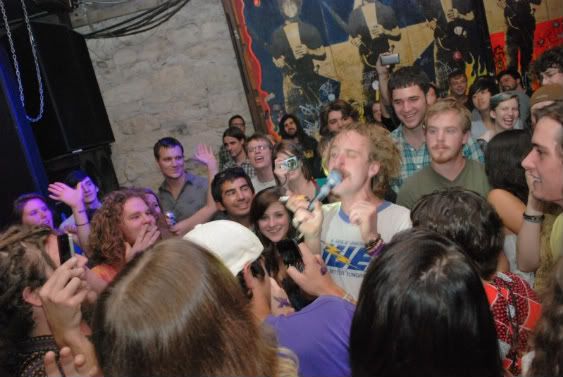 DO you see John in the middle? He lit that smoke and then made his way into the crowd so quickly that I did not have time to change my camera's settings, so this is what you get. You can see the little ones all around. I have never seen some many hands with X marks, the stamp that declares a person to be a minor. Again, the elderly folk (those that were 28+) were a little further back, with the wheelchair ramps and handicap porta potties.
Here are a few more shots: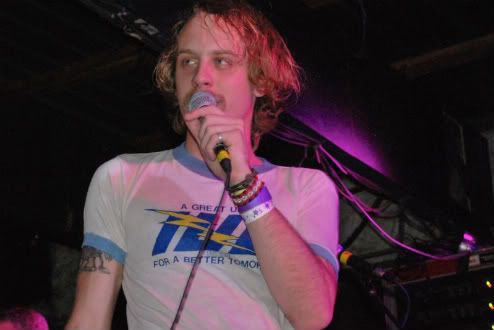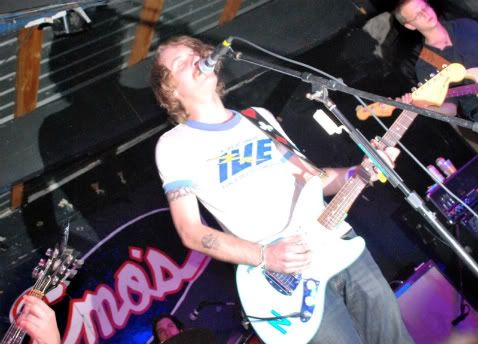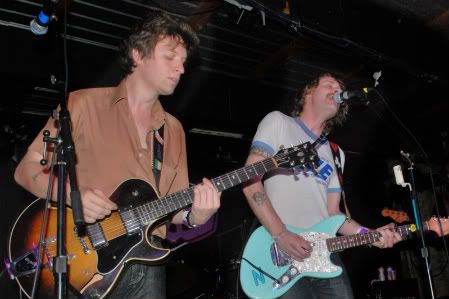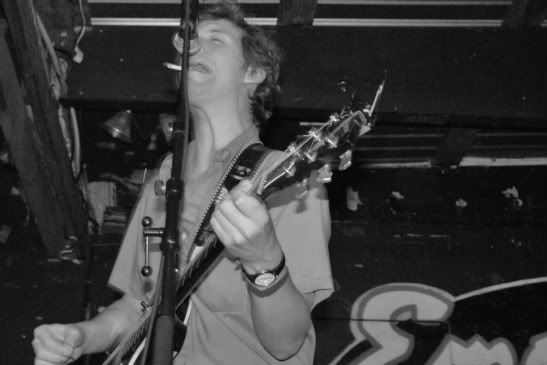 By the time John John McCauley had climbed a wooden support beam to the rafters where he hooked his legs around a beam and threw his body into an upside down position so that he could sway back and forth above the crowd, I had already packed my camera away. DAMN!
However, the image was captured by many people. I found it at g
Covert Curiosity's blog
, scroll down, and check out the shot he (she?) captured.
Lastly, would you like to know what I wore to the show? I am asking to be polite. No matter how you answer (yes or no) am going to show you either way because that's how I roll.
note to self: stop using the phrase "that's how I roll."