El Camino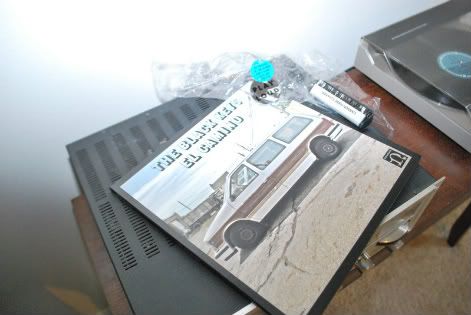 The newest album from The Black Keys came out Dec 6th, 2011. They have been making promotional appearances all over the place!
SNL
MTV Release Show
The Colbert Report
Late Show with David Letterman
If you are only going pick one link to watch, I say pic The Colbert Report. There is an interview and a performance, and both are great. The interview is pretty funny. Normally, these guys come off with a "sarcastic/smart ass" flavor. When Steven Colbert interviews them, they are all grins and giggles.
Wait...is "giggles" the right word? Do grown men "giggle?"
They do when Steven Colbert interviews them.
Ha!
Any-hoo, I pre-ordered the album. It arrived wrapped in cellophane with a shiny silver sticker saying "Play Loud"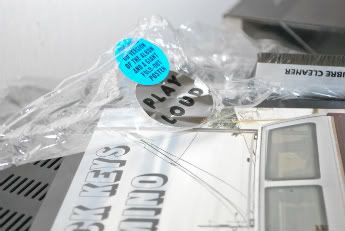 You don't have to tell Dale twice. He popped that baby on the record player and turned it up loud enough to shake the needles off our Christmas tree.
Lonely Boy
and
Gold on the Ceiling
are the two songs getting all the play and talk right now. They are both tremendously great songs and if you have not seen the video for
Lonely Boy
, go watch it now. You will want to thank me later. You probably won't actually thank me, because you have to make cookies and put stamps on your Christmas cards. I get it. You're busy. I'm busy. We all busy.
Where was I....Oh yes, The Black Keys.
Alright, so the two songs they are playing just about everywhere are great. I love them. But, heck, side one if the album is nothing but gems.
Little Black Submarines
reminds me of the Led Zeppelin era of Rock-n-Roll while
Money Maker
is a fat groove that will have you shakin' your hips. I promise you.
As for side B, I would have to pick
Nova Baby
as my favorite. Though
Run Right Back
could just as easily take that spot.
When their last album, Brothers, put them into the mainstream I gotta say that it was a little strange hearing
Tighten Up
come over the sound system at Ulta while I was shopping for cosmetics. Even more strange when the 17 year old cheerleader standing next to me started singing along. I wanted to shove a copy of
Rubber Factory
in her hand basket, next to her glittery lipgloss and hair straightening serum.
I mean, I've followed these guys since forever and while many of my friends enjoyed their music, it was not something the general population knew about. Now, three grammys later, everybody up in here know about Dan and Pat.
And that's ok.
: )