Cooper has a lazy eye.
It's only noticeable when he is looking to the left, like so: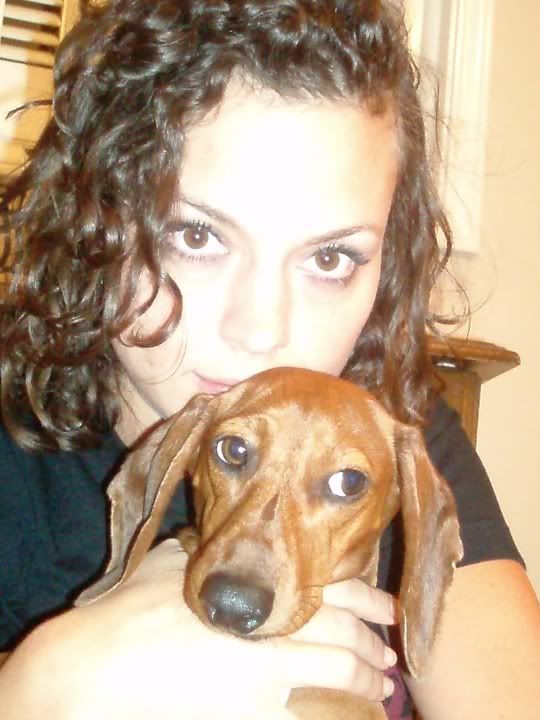 I remember viewing a picture of him before we got him. It was sent in an e-mail telling his story about how his mom had been abandoned on some country road. A wonderful, kind hearted couple saved her and shortly thereafter, she had a litter of five. Cooper was the last remaining puppy and we are so happy that we got him. However, there was a moment of slight hesitation to "adopt" him because he seemed to have a bit of a wonky eye:
It's barely noticeable, but I could see it.
I told Dale that I was concerned about this eye because it might be a clue that his mental abilities were a bit "slow." I had read that sometimes mutational gene breeding processes, practiced by awful breeders, are performed to obtain certain coloring and patterns. This process can lead to offspring that are deaf, blind, and lord knows what else. (I later found out that this was not the case when it came to Cooper's coloring/coat). That and the fact that he was the last one to be picked was cause for concern. It turns out that he was the favorite of the couple that had rescued his mom. They called him "Mr. Brown," a name I would have kept if I did not already know a human named "Mr. Brown."
Also, he is not "slow." He is very smart as a matter of fact. He sits on command, plays fetch, responds correctly to several words, and is learning lay down and shake hands on command.
He also likes to bite people's toes, so watch out.
"Hey, Dad…why don't you lower your foot just a little. I just want to get a closer look at your toes to make sure you don't have any ingrown toenails….that's all…."
"That's it…just a little lower"
"I got you, sucka!"
CHOMP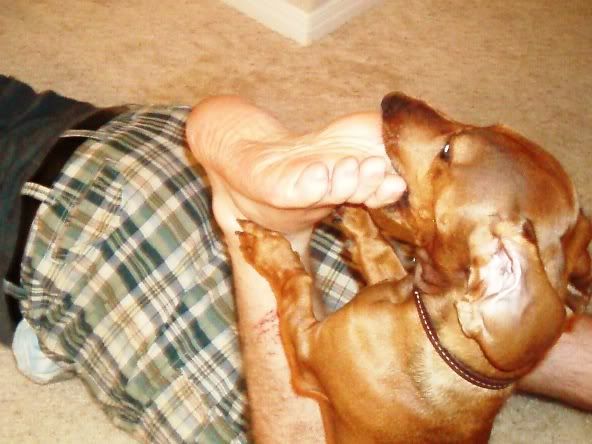 In other news:
I can now make the hula hoop spin around my shoulder. That's right, you read that correctly…AROUND MY SHOULDER! It's a cool trick.
Dale is also mastering certain hoop tricks.
We have pulled Juan and Reyna into our hooping obsession and they now both have their own hoops (pictures to come in a later post).
It is a dream of mine to have a hooping party at Larry's house sometime in the near future. I would host it at our place, but our backyard is not big enough for more that 3-4 people hooping at a time. I think it would be cool to provide the materials to make the hoops. I would ask people to bring their own tape, as that can get expensive, but the tubing and connectors would be a gift from the Webb's. Then, after everyone has finished making their hoop, we would all go out to the backyard/golf course and have a giant group hoop session.
Man, that would be sweet!