Ants on the Pound
Hello friend! Good to see you! Pull up a chair and pour yourself a drink. I have plenty to share with you on this fine Thursday afternoon.
I'm not sure when it is that you are actually reading this, but I am writing it on a Thursday.....afternoon.
Where to start, where to start?
I know, how about:
CHRISTMAS CARDS
I only sent out 3 this year - thanks, back pain. Yes, I did write them while on pain medication. You could probably determine that by the rambling greetings I wrote. I must say that I drew some fine pictures in each of the three cards. I don't draw nearly as much as I used too. I'm not phenomenal at it but I don't suck at it either. Miss Bee blogged about the Christmas card I sent her
here
. I am so happy that she took a picture of the card. See, I drew a special picture for her, her bo-hunk, and her dog. Here it is: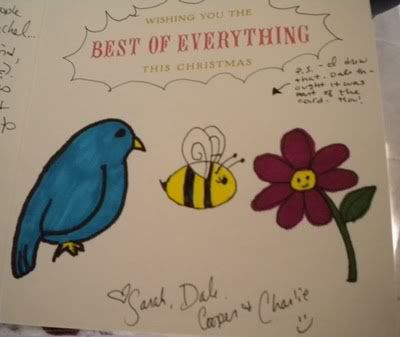 Bird, Bee, Blossom.
Here is a picture of the card that I sent to Josh and Tirzah. I saw it up on their refrigerator when we visited their house on NYE. I could not resist taking a picture as I was proud of the grinch that I drew. He is not exactly the correct shade of green but I worked with what I had.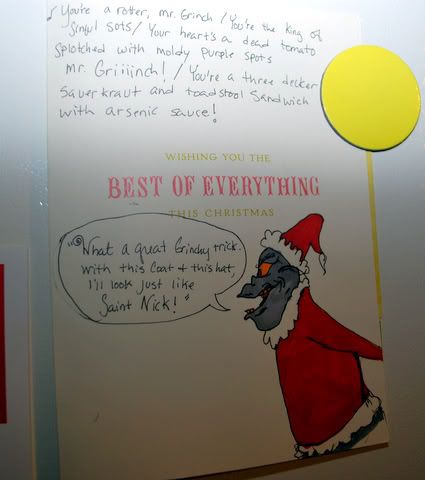 You're a mean one, Mr. Grinch

Amy and Will got the third card. I do not have a picture but imagine an evil elf because I think that is what I drew.
We celebrated Dale's 33rd birthday on the same night that we watched the 2010 college football national championship.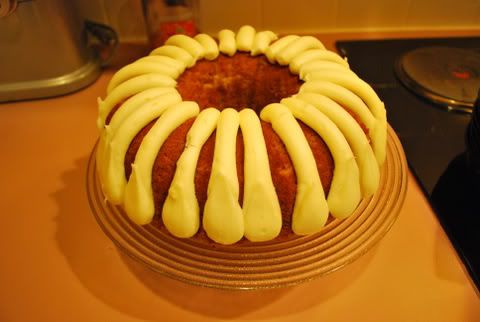 The cake was the yummy.
The game was not.
Here he sits with Blossom on his lap.
Why yes, she is wearing her UT cheerleader outfit.
Oh look!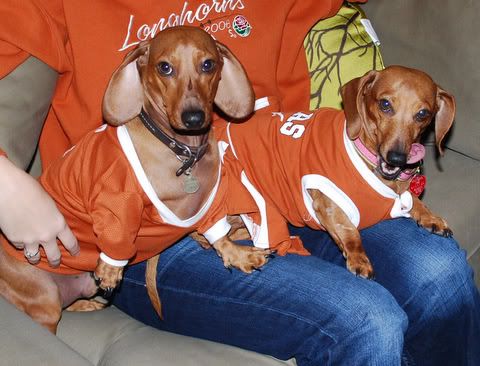 Cooper looks buff.
This picture makes me laugh: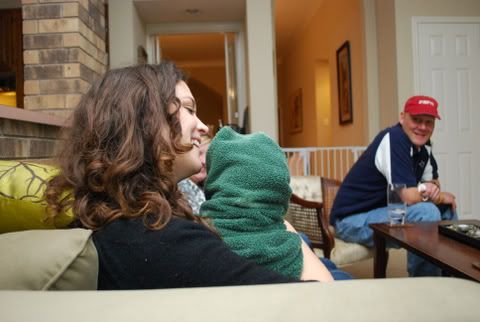 Charlie is all wrapped up in a towel. He just had a bath and I was drying him off. I was so not pretending that he was a human child to somehow satisfy the primal need a woman has to produce offspring. Why would you even think that?
Last weekend, our pal Ahad stopped by and gave Dale a traditional Pakistani outfit. Google tells me that the shirt is a "kameez" and I think the pants are called "salwars."
Dale says the outfit is very comfortable. I totally want to make that kameez into a dress.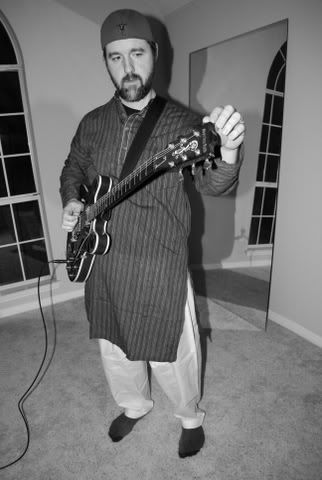 Another cool photo courtesy of Tirzah.
In Other News:
*I saw Avatar. I think I will post about that over the weekend. All in all, I do recommend that you see it in 3D at the Imax.
*If you are not watching Community and Modern Family then you are missing out. I tried to watch Glee but it started getting on my nerves. I completely stopped watching it after they took a Queen song and murdered it.
*I am tired of Pants on the Ground. Just stop it already! ENOUGH! I don't even watch stupid American Idol yet even I know that damn song by heart.
See you later, alligator.