Sucker
I absolutely love me some TJ Maxx. I have found many a treasure in the housewares section of this discount mecca. Usually, you can get a pretty good deal on whatever it is you are buying. Notice how I said "usually." Take a look at my most recent TJ Maxx purchase:
Yeah.....I paid $10.00 per bottle. It's friggen' dog shampoo and conditioner and I spent $20.00 plus tax. What is wrong with me? This is from a person who used to only buy the dollar bottle of suave for myself! I am a person that re-uses plastic ziploc baggies and I spent $20.00 on doggie hair care product!
I am a fan of Bed Head products and a SUCKER for advertising. Once I read that it's "only for cool dogs" I was sold. Well, the bone shaped cap didn't hurt either.
My dogs are pretty cool: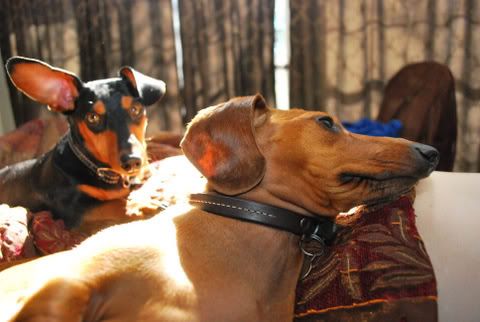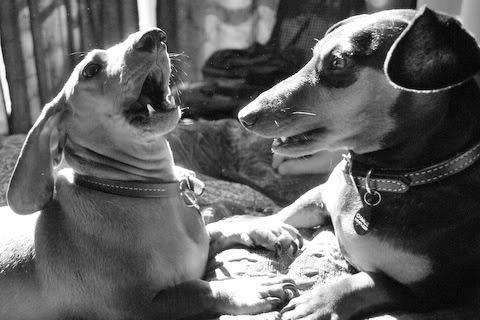 In other news:
*You would have to pay me and probably drug me to get me to go see the new movie
Valentine's Day
. The previews alone make me want to punch somebody in the face. Chick flicks....yuck.
*I really want to see
Alice in Wonderland
but who doesn't, right? Must wait until March (my birthday month...hmmm, I smell an Alice In Wonderland themed birthday party)
*The next movie I will most likely see is
It Might Get Loud
- a documentary on the electric guitar from the point of view of three rock legends (Jack White, Jimmy Page, and The Edge).
*The last move I watched was
Jennifer's Body
starring Megen Fox. Dale and I decided that she looks like our good friend Kristi. Pretty girl. Shitty movie.
That is all. I love you and hope you are feeling so fresh and so clean.