The Black Keys on ACL
I absolutely HATE IT when The Black Keys are in my city and I miss the show. It has happened a few times for one reason or another. They taped the Austin City Limits that aired tonight months ago. I remember hearing about it and being pissed that I could not attend. It's hard to get into an Austin City Limits taping. I have only been to one (The Flatlanders) and I used to spend hours of my life right next to the damn studio! Back when I was in Grad school, the Speech and Hearing Clinic I spent most of my time in (studying, working, and studying) was in the basement of the communications building, right next to ACL studios. I would always see the musicians and roadies pulling in and loading their gear. It sucked because I knew I had to go to class and learn about the larynx while fucking Arcade Fire, Ghostland Observatory,or Wilco were rehearsing just a few steps away. Those were tough times.
any-hoo, here is a behind the scenes clip of the show that aired tonight.
The Black Keys: Behind the Scenes at ACL from Jonathan Jackson on Vimeo.
They did a great job. These bastards are friggen' huuuuuuuuge now! They all over the place! I hope that I get to see them again....and not and the stupidly large Frank Erwin Center. Shitty acoustics at the FEC.
If I don't get to see them again, I will just have to be happy that I have seen them so many times. Last year at SXSW was so much fun. Side Stage/back stage action!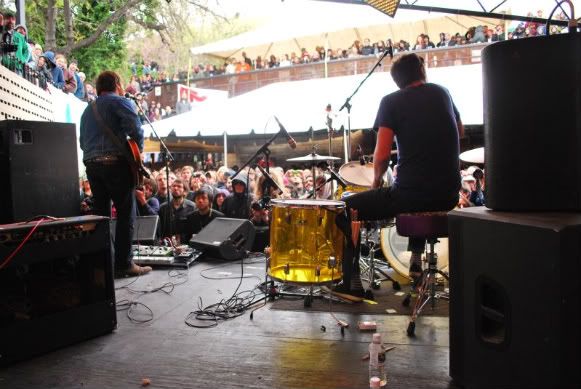 They deserve their time at the top. I think they have been at it for 9 or10 years. I loved them when I first heard them but knew I SUPER Loved them times 50,000 the first time I saw their video for 10 A.M. Automatic. For some reason, the embedding code on youtube has been disabled. You are just going to have to click
this here link
to go watch it for yourself. The part where security has to put the old lady back in her seat kills me!
Also, I wonder if Dan Auerbach will ever do another solo album? I think
Keep It Hid
is one of the best albums of the damned decade. His
backing band
wasn't bad either.
Guess I am just getting geared up for March 16-20th...the music part of SXSW. I'm already building my schedule. Must. See. The Greenhornes.