Prime Rib Dinner (PRD)
For the past few years, Dale has chosen one magical night per year to cook a most delicious Prime Rib Dinner (PRD). The first time he did so was on New Years Eve. He has also done PRD to celebrate a friend's college graduation and another friends bachelor party. This year, he did PRD to celebrate a Saturday.
Now, the good thing about PRD is that it is so good you only need it once a year. The bad thing is that it is so expensive that we can only invite a few people over to partake in the eating. We have rotated the people here and there but have missed out on some of our closest friends. You know who you are. Next year, PRD will be held in your honor.
Want to see a few pics from the festivities? All photos are credited to the talented Tirzah. I love it when she uses my camera.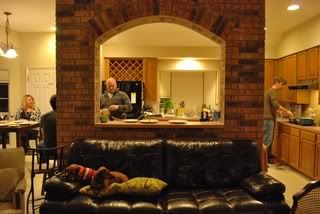 J
osh drank the new Walgreens Beer. You can see it on the counter. Have you heard of this stuff? It's called "Big Fats"...I mean, "Big Flats". "Big Fats" is my nickname. You can see how I would get the two confused.
Dale fashioned his facial hair into a handlebar mustache he called his "one day mustache." It was hard to look at.
The night ended with the final four (five if you count Charlie) in the garage. Shenanigans ensued, naturally.
Tune in soon for a few more pictures from PRD 2011.
In Other News:
So now my lower back is a screwed! Not sure what is going on. Maybe slipped disc, maybe cracked lumbar vertebrae. I just don't know. Sitting and walking are painful and laying down is not much better. Good thing I can stand still. At least my neck is on the mend. Sheesh! The physical therapist says it's all connected and it is not surprising that I had two conditions co-occurring (neck and lower back). We call that "comorbidity," when two or more medical conditions coexist. One possibly caused the other.
The Low Lows are opening for The Heartless Bastards at the Ghost Room this Friday.
I so want to go,
but just don't know,
if my back will support me,
yo.
That is all.