Beard Contest Part 7: Ladies
It's now time to share the photos from the part of the Beard and Moustache that featured the ladies!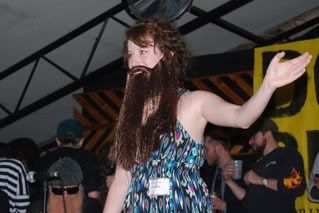 This gal was the first contestant on the price is right! Um, scratch that. Sorry.
Speaking of "scratch that" how in the heck do I create a strike through on this sucker? I see it done on other blogs so I know it is possible. Somebody google it for me. I am feeling a bit lazy.
Meet "SARAHFUCKIN'BLUE!"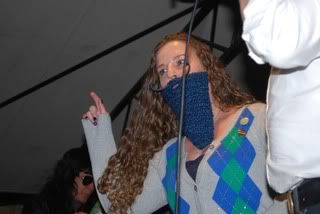 Yes, that is how she introduced herself. Later on when her boyfriend was on stage being judged on his facial hair, he gave a shout out and said "I came down here from Portland with my girlfriend SARAHFUCKIN'BLUE!
And then there was this lady: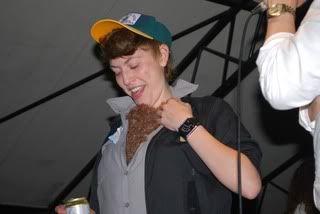 I thought it was clever.
This one was my personal favorite:
She made that hat and beard. Nice.
Another cool beard:
flashin' a little belly never hurt nobody.
Oh, wow! Look at this one:
Would you believe me if I told you that her beard was made from actual human hair? Well you better, because those are her dreadlocks that she had saved after she sheared them from her head. Yes...I'm serious. Looks like they came in handy. When I saw them, all I could think was "I bet they stink." Sorry, but that is what I thought. I mean no harm.
This chick had a pretty cool look: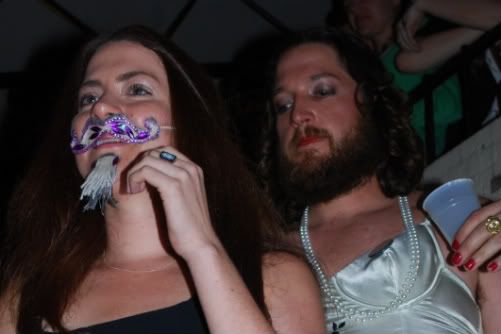 Who is that guy totally checking out her ass?
Well, it's this guy: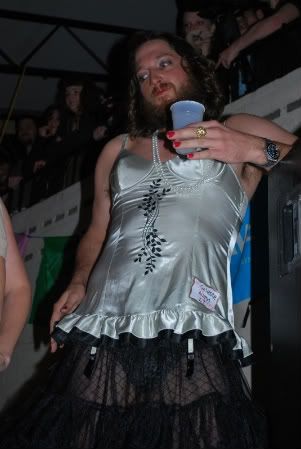 Still checking out her ass.
Here is a picture of his complete outfit: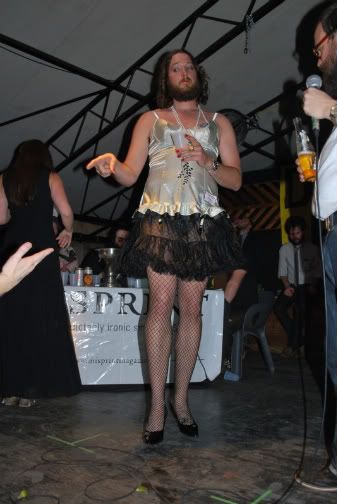 Looks a bit like Joan Cusack.
And here he is allowing the host to motorboat his non-existant cleavage.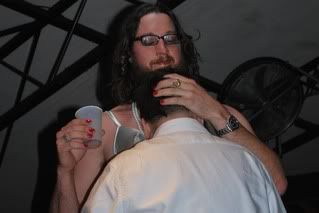 Up next- Gnarliest Beard. After that, I will post the winners. Damn, this is the longest series ever. I can't wait for it to be over.