SXSW:Sunday-Night
Ahhh, here we are at the last of the SXSW 2011 posts. Soon, I will be able to post about random things again like: my dog is fat, my other dog is thin, I saw a deer get hit by a car this morning, I am going to a rolfer for some rolfing, etc.
For now, let's discuss the last night of SXSW. Dale and I started off at Central Presbyterian church to catch Sharon Van Etten. I had heard her singing and playing guitar on the radio a few days before and her voice just about killed me. That was on the radio. In person, I damn near thought I was going to need medical attention. Her voice is like a hook that plunges into your gut and pulls out your small intestines. I had goose bumps during her entire performance. Loved her. In fact, she is now my favorite new (to me) artist. This is why I love SXSW......if you do it right, you will find new music to love.
Here is a video of Sharon performing at the IFC Crossroads house during SXSW 2011-
Niiiiiiiiiiice.
After SVE (that's Sharon Van Etton, duh) we went to Frank's for a frank: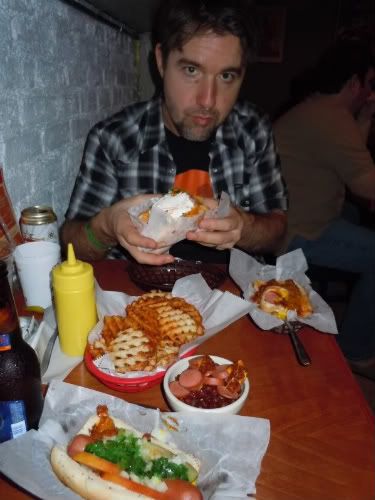 If you are going to eat a hotdog, best go get one at Frank's.
Next up, Antones for Joe Ely and David Grissom. Joe Ely was born in Amarillo and was raised in my hometown, Lubbock. He has been at this music thing since before you were born. I recently found out that he toured with The Clash and even sang back up vocals on "Should I Stay or Should I go." He is a great musician, songwriter, and performer. You should check him out sometime. In fact, see him now while David Grissom is playing with him. David's guitar playing will spank your ass. IT WILL SPANK IT HARD!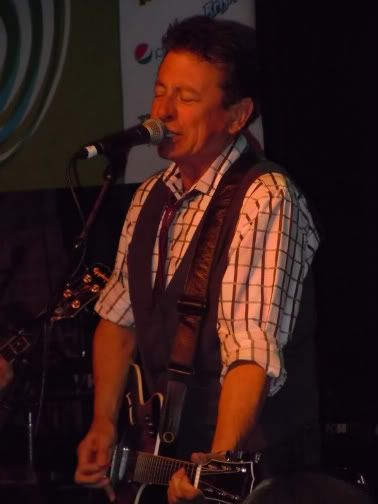 Joe
David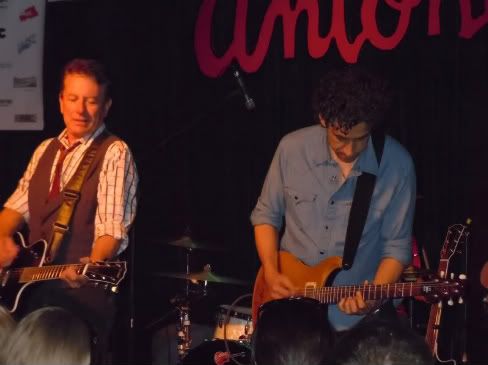 Joe and David.
Here is a funny story about this show. We walked into Antone's and the place was packed. There was a line around the building. We pushed our way into the crowd and found a decent spot. I started looking around and noticed something strange. I turned to Dale and said, "man, there are a lot of bitches up in here. I wonder if Bob Schneider is playing later on." No offense bitches and Bob. It's just that Bitches love them some Bob Schneider. Simple fact, that's all. Anyway, Joe Ely comes out on stage and this girl next to me tells her friend, "oh! he is old!" At this point, I knew something funny was going on. Most of the crowd was compromised of women in their late 20's-early 20's. This is not the norm for a Joe Ely show.
So Joe Ely and the band do their thing and they do it well. Dale and I went home after that set. When I got home, I checked the SXSW schedule and found out who those chicks were waiting to see: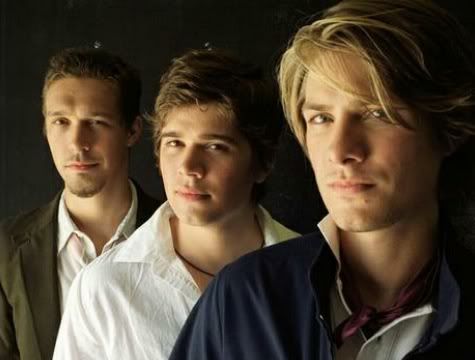 Hanson. Yup.....Hanson.
photo credit
This concludes the SXSW 2011 Blogs.