SXSW 2012: Big Show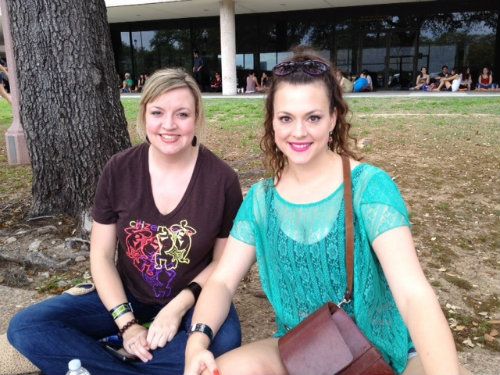 On the last day of SXSW, Miss Bee and I were pretty tired. All the walking, standing in line, putting up with drunk assholes, and staying up late was taking it's toll. We knew we had one last show to attend and being tired was not going to stop us. We were smart, this time around, and sat in line for a few hours rather than killing ourselves by standing. The big show was an outdoor screening of Big Easy Express followed by performances by Mumford and Sons and Edward Sharp and the Magnetic Zeros, and one of the fellers from Old Crow Medicine Show.
"3 bands, 6 cities, 1 train, and thousands of miles of track...BIG EASY EXPRESS captures an incredible musical journey. Harkening back to the days of jubilant railroad revivals, of steam and steel, three bands set out in April 2011 to tour America by vintage train. L.A.'s Edward Sharpe & The Magnetic Zeros, Nashville boys Old Crow Medicine Show, and Londoners Mumford & Sons climbed aboard amid the massive rail yards of Oakland and set out for New Orleans on a "tour of dreams." Stopping along the way to play sold-out shows in spots as diverse as San Pedro, California, and Marfa, Texas, BIG EASY EXPRESS documents the bands' vibrant railway adventures; the high canyons, joyous crowds, blasted skies, late-night laughter, endless music...and a train that was bound for glory."-from the Big Easy Express website
We attended the Railroad Revival Concert to see those three bands almost a year before and that show was one of the best I have ever experienced. The stakes were set high for this reunion show. After waiting in line forever, we finally were let onto the lawn behind the LBJ library. Bee and I picked a nice spot for the viewing: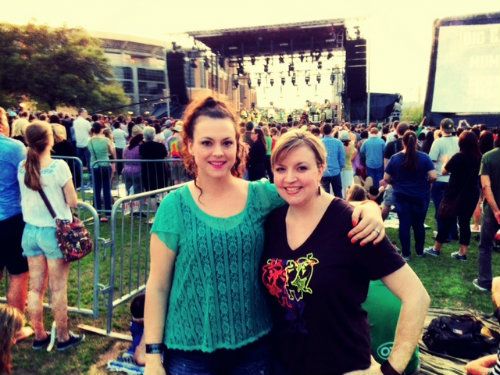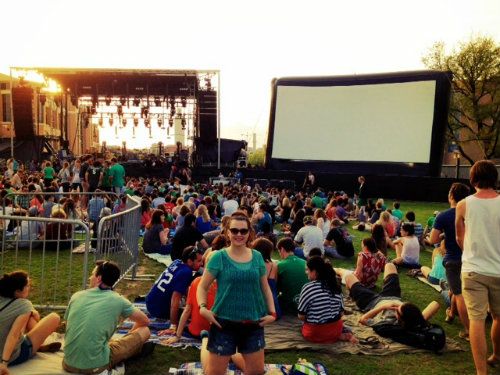 Stage and screen, side-by-side. Miss Bee had packed a few blankets and bottles of water. We chilled on the blanket waiting for the movie to begin.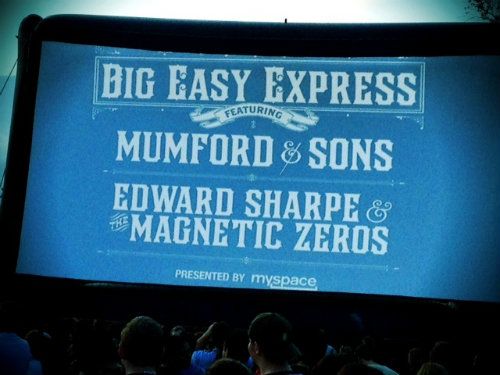 Just as the sun was starting to disappear past the horizon, the screen lit up and the show started.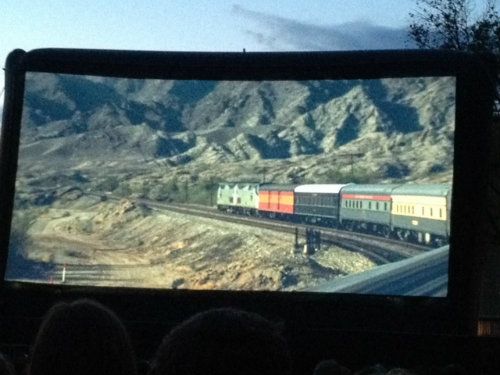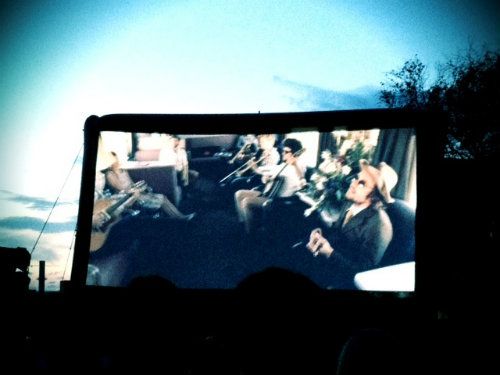 The movie was good! Really makes you want to hop on a train with all of your musician friends. Bucket list? That would be cool. Just as the fireflies started to come out, the bands took the stage to play. The weather was perfect. People swayed back and forth, singing along to the songs. One of my favorite moments was when Jade Castrinos (of Edward Sharp and the Magnetic Zeros) sang Fire and Water. You would have to be a real jerk to not love this song. A real jerk, bub. See for yourselves in this video of the band performing that song as they sat underneath the trees of Austin's own Barton Springs: The band enjoyed a little swimmin' and playing before the Railroad Revival Tour back in April, 2011. I don't have pictures of the bands playing that last night of SXSW 2012. It was Dark and I only had my iphone. My other favorite part of the night was when Miss Bee confronted some drunken college age boys who were loudly talking about some pretty nasty stuff. She marched right up to them and, for a split second, I thought I might have to go over there because these guys were towering over her. I was thinking, "I'm going to have to kick somebody in the kneecap....and maybe bite somebody's ear off....: But Miss Bee went full "teacher" on them and those boys stood there and took the lecture. When she was finished with them, they even abandoned our area! Thank goodness, because they were really stinking up the vibe. Miss Bee for President!