Topher is short for Christopher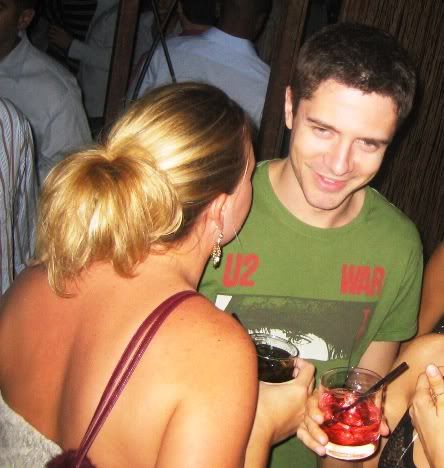 Oh my, is that our friend Rachel chatting happily with Topher Grace? Why yes it is. Rachel met Topher (of that 70's show, and some film work that I am too lazy to mention) at some club here in Austin.
Rachel also met Mickey Rourke at a different club in Austin a year or so ago.
Rachel was with Margaret both times when meeting these Hollywood celebs, just a random fact.
From what I gather, Topher was in town acting in another Texas chainsaw massacre movie. Rachel met a producer, of that movie I suppose, and he invited her to some high falutin' pool party. She declined his invitation. Uh-huh, you better believe she did!
Woooooooooooo-Weeeeeeeeeeeeeeeeeeeee!
Thanks to Erin for the picture of Rachel and Topher. I understand that Topher gave her a little hell for taking the pic without his permission.
Here is a pic of Erin. What a lovely gal.

I know Erin will see this posting. How do I know? Because My man Dan is gonna make sure that it happens.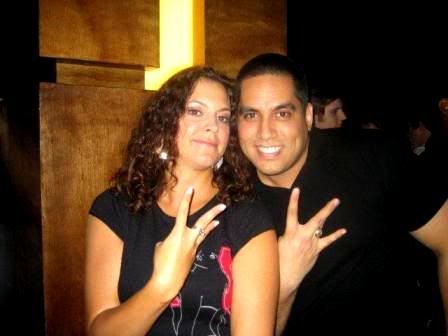 Sarah and Dan
Oh my gosh, I look like a man in that pic! (Jeph, I am attempting the rap hands for YOU)
Any-hoo, because I know that Erin will see this posting I am gonna have to show this picture: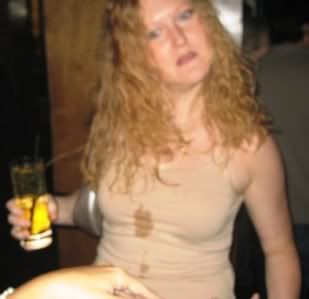 I enjoyed meeting you, Erin. Margaret and Dan are lucky to have you as a friend. I am lucky to have this picture, because your facial expression and the wet spot from the spilt drink on you shirt make me laugh.
(you know that I luv ya)