New Years Eve: a synopsis (part 1)
After spending most of the day shopping for a new outfit, I came home and waited for the crew to arrive. Dale and LeeAngelo Angel of Death Martinez-Palomos made it to casa del Webb first. (or is it casa de webb?)
They brought BBQ and Beer. That, my friends, is the key to my heart. Rachel arrived soon after and was followed by a solo Colin. Laurie could not make it due to the virus that claimed her being the night before.
Rachel gave Colin a new years eve gift. This pic is crappy, but the gift was half a bottle of vodka and some tonic water. Colin now has a new New Years eve tradition. A drink for his father, God rest his soul.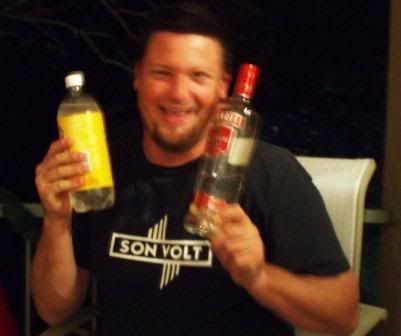 We had a few drinks on the porch and enjoyed each others company. Then, Lee (mr. "I don't go past 15th street") made fun of Colin for shopping at the gap.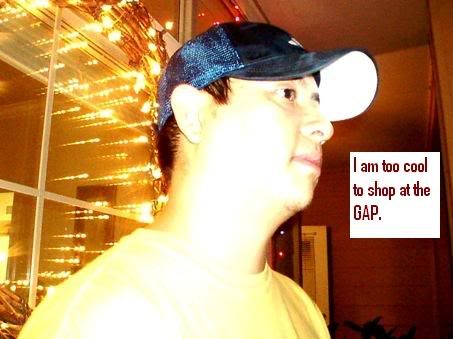 Uh, Lee, I remember you in Lubbock with your leather coats and your slick hair. You are not fooling anybody.
Dale and Lee suggested that we go to Emo's to ring in 2006.
Slick 57, Basin Street, and the Flametrick Subs were all playing. Plus, Satan's Cheerleaders were gonna be there.
"go-go dancers from hell"
We sent young Colin on his way and we took off for Lee's house.
Once we were at Lee's We had a few more beers as we watched his NOLA neighbors set off fireworks. Yes, we all know there was a Burning Ban.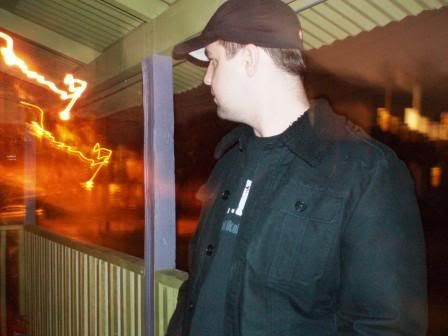 Dale dropped Rachel and I off at Emo's. He and Lee had decided to walk to the club from Lee's house. Rachel and I were both in heels, so walking was a no-no.
The first band up was Basin Street
Please excuse the crappy pic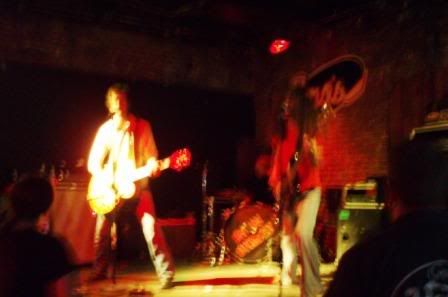 "straight ahead rock and roll mixed with punk, gospel, and soul"
I really enjoyed this band. I liked them so much that I decided to let it slide when the guitarist/singer tossed a jug of water on me. Rachel was able to move out of the way, and remained dry. The water hit my straightened hair causing my curls to come back to life. DAMN!
Oh well.
After they played, we met the bass player/vocalist Andrew and his friend Jenn:
They were both very nice. We also met a white trash family from Weatherford, TX. But that, my friends, is another story for another soon to come posting.
Soak all of this in first.
I leave you with this: