Hail Mary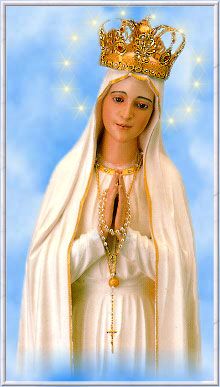 I heard the weirdest thing on the radio this evening as I was driving home from campus. I was scanning the channels on the AM band for a talk show. Somewher in the 800's, I picked up the weirdness.
I heard a man saying the first part of the Hail Mary prayer-
"Hail Mary,
Full of Grace,
The Lord is with thee.
Blessed art thou among women,
and blessed is the fruit
of thy womb, Jesus."
And then, a woman took over to finish the rest-
"Holy Mary,
Mother of God,
pray for us sinners now,
and at the hour of death.
Amen."
This tag team prayer was repeated over and over and over again. I listened for like 3 minutes to see what would happen next, but eventually had to turn it because I got creeped out.
That's all I got.
Miss ya'll.