Mr. Brownstone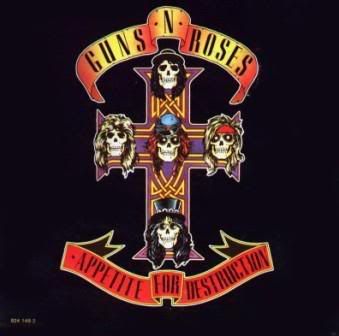 The opening guitar riff and drum combo on the Guns N' Roses song
Mr. Brownstone
is just about one of the meanest intro's to a song….ever.
And then, it get's a little lame.
But that opening… man! I sometimes just play that part of the song and then play it again, skipping the melodic popish rockishness that follows.
Yes, I make words up. It's my right as an American.
Appetite for destruction was the first album I bought. Actually, I requested it for my 12th b-day. There I was, singing lyrics like:
I used ta do a little but a little wouldn't do
So the little got more and more
I just keep tryin' ta get a little better
Said the little better than before
And I had no Idea the song was about Heroin.
One day, my mom found my GNR cassette and decided to look at the lyrics. What she found, was the inside cover art:
Mom was pissed.
I tried to tell her that the picture depicted a robot rapist about to be punished by a metal avenger, and that it was not just a rape scene. IT WAS ABOUT REVENGE FOR THE RAPING!
She made me tear it up.
I got to keep the music, though.
ROCK!

Now I get up around whenever
I used ta get up on time
But that old man he's a real muthafucker
Gonna kick him on down the line