It happened again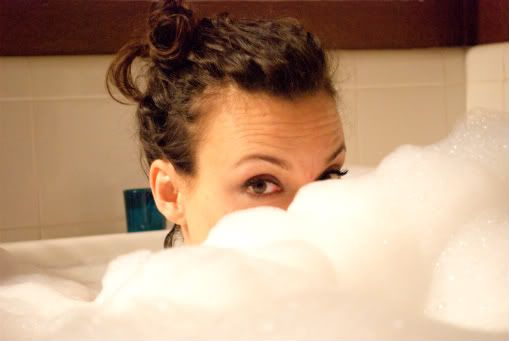 I have been using Dirty Girl bubble bath for at least 3 years now. It creates the perfect amount of lily scented bubbles that last the entire time I am in the bath.
When we first moved into this house, I took my first bubble bath in the jacuzzi tub with disastrous results. Basically, I found myself encapsulated in a mountain of bubbles and not much water. Well, I have perfected the bubble bath routine and now know the exact amount (a dollop) of dirty girl I should use to obtain optimal results. I have not had a repeat "mountain bubble" incident......until last night.
I recently bought some bath and body works gardenia bubble bath because it was on sale for $3.00. Well, a dollop of that stuff is waaaaaaaaay different that a dollop of dirty girl due to it's consistency. Here were the results: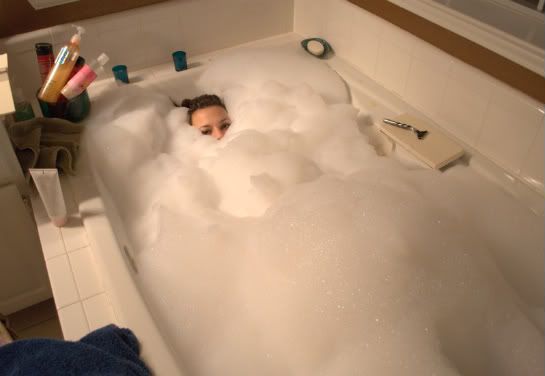 I yelled for Dale to come in and turn off the jets once I realized things were getting out of control. The jet control is by the bathroom door and I would have to get out of the tub to turn it off. I can't really do that covered in bubbles so Dale had to save the day. Little did I know that he would find my situation amusing and photo shoot worthy.
After viewing the photos, I must admit that he was correct.
In other news:
Rachel and I attended a pilates class last night. I loved it, but there is a story that must be told. Give me a day or two to chew on it before I blog about it.
I SWEAR that acupuncture is working! I don't know how or what it is doing, but it is doing something! YIPPEE!
Dale makes the best cereal. Yup....he makes cereal. I am going to have some right now.