Dreaming of Mini Muffins

I had a dream, last night, that I was at a fabulous backyard party. The weather was warm, I was dressed comfortably, and I was hungry. Thankfully, I spotted a table full of mini muffins. "How perfect," I thought. "Mini muffins are low in calories. I should eat one." (I have been watching my weight lately. My body is pissed that I am no longer feeding it apple fritters from Starbucks so it is punishing me with hunger/craving dreams).
Any-hoo, where were we...
Oh yes, I saw the table of mini muffins. I walked up to the table and selected the most decadent looking muffin. It was chocolate with chocolate icing. (For breakfast, I have been eating deep chocolate
vita muffins
for about a week now. They are really good and only 100 calories. Sadly, they are not iced).
I lifted the muffin up to my lips and opened my mouth. I could feel the muffin on my mouth as I pulled my lips back to reveal my teeth right before taking a bite. It felt so real!
In fact, it felt so real that Cooper could feel it.
You see, he was sleeping right next to me and, in my sleep, I was about to bite his nose. I had his nose on my mouth and I was about to bite it. He must have felt my teeth press against his little snout because he snapped his head to the side and let out a huff. It totally freaked him out. If freaked me out too!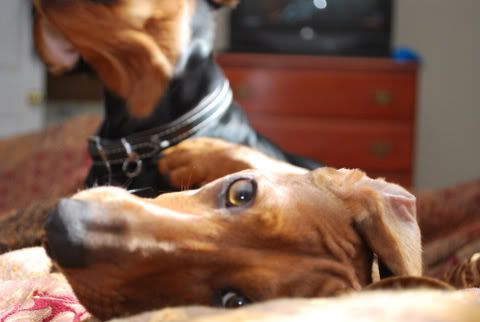 That little black nose was, but for a minute, a perfect chocolate mini muffin.