I'm Just a Girl
OPI nail polish recently put out a line of colors inspired by Tim Burton's Alice in Wonderland. Naturally, I already own two of the colors (because I am a sucker for themes).
***Urban Decay put out an Alice in Wonderland Book of Shadows. You can buy it for me if you want. I won't mind.
Here are my nails - freshly coated with "Absolutely Alice":
(I just got that ring-it was on sale. I love it).
Here is a better photo: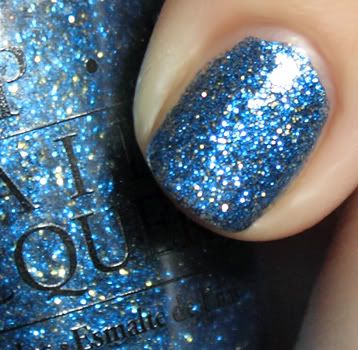 I lifted that photo from
alllacqueredup.com
-"a nail polish fanatic's resource" *my nails look a bit different because I used a colored undercoat.
It took me about two weeks to actually purchase this color. The first time I saw it at my local HEB, I picked it up and admired it for about five minutes. I put it down and told myself that I was too old for blue-sparkle nail polish. Every time I went back to HEB, I would repeat the same ritual. My inner child/rocker/pixie finally won the battle and the bottle was purchased. I painted my nails on Saturday and told myself that I would remove the color before I went back to work. Yeah, that didn't happen.
Oh look!
It's Charlie!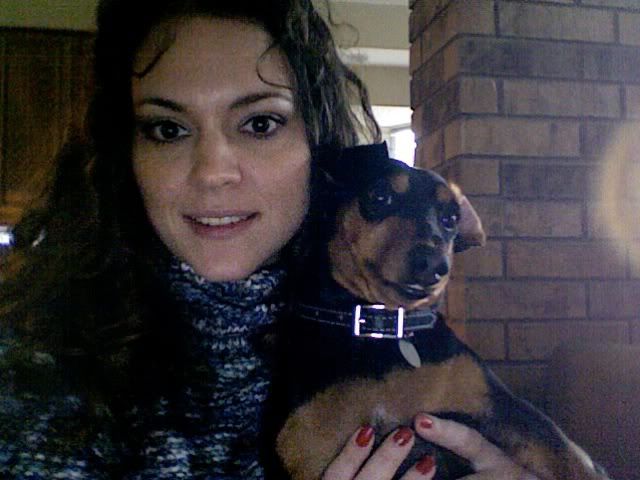 *the nail polish color I am wearing in this photo is also from OPI's Alice in Wonderland collection. It's called
"Off With Her Red!"
What a sweet baby. As I type this, both Charlie and Cooper are snuggled up against me. I love those guys.
What else to say...........Oh, I bought a new dress:
It's called "The Socialite" and it was Francesca's pic of the week, last week. Spring is around the corner.I can't wait to wear it.
Oh, and you know what else? I am loosing weight. Two weeks into it I am 5lbs down and my pants are already fitting better. I'm using
SparkPeople
to track my calories/fat/carbs/etc. Before I started tracking what I ate, I knew that I was taking in too many calories but did not know by how much. DANG! I had to stop it with the apple fritter indulgence and the constant snacking. I used to go through those yummy quaker mini-delights like they were free. Now, I am amazed that the box I bought 3 weeks ago is still sitting in the pantry.
Now you are up to date with all things girly. Well, Charlie is not girly. He is a tuff guy.