SXSW 2010: Day Four (The In Between)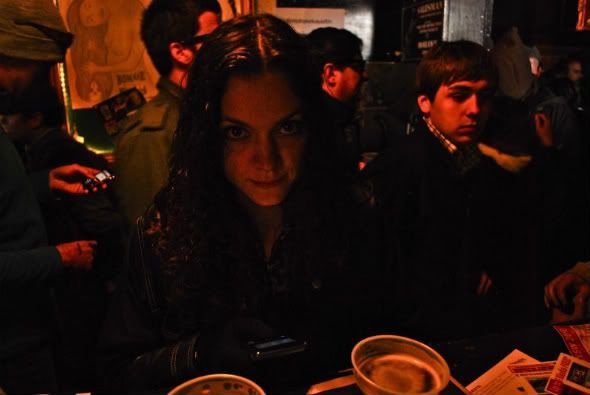 On SXSW Saturday, the weather turned from sunny and 70-something degrees to overcast and COLD! Therefore, I did not want to be outside until The Black Keys were on the stage.
About 15 minutes before The Black Keys went on, Dale and I went to a little alcove (near the entrance to the outside stage but not quite outside) to finish our beers and to make each other laugh.
The area we occupied looked like it was the spot where band merchandise was typically sold, though there was no band merchandise to sell...only flyers, newspapers, a pizza box, and empty beer cups. Dale stood behind the counter and found a crisp, white, brand new looking hat on a shelf. The hat was from The Dirty Dog Bar on 6th street...a place neither of us had been. It was a fitted hat and, when dale placed it on my noggin, we found that it fit me perfectly.
At first, I was a little scared that I was going to get lice from wearing the hat. My desire to keep my head warm overpowered my fear of scalp-dwelling insects.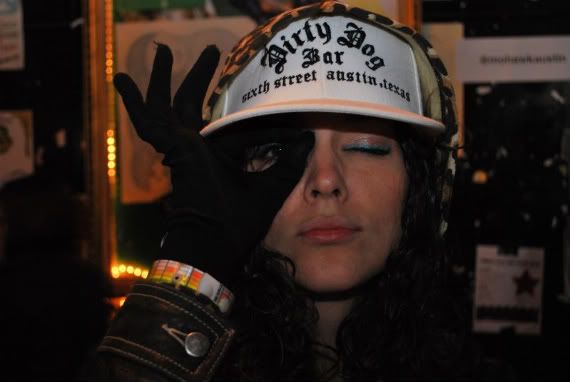 I totally stole that pose from Lady GaGa.
In case you were wondering, I did not get head lice. Whew!
Once we got outside, we caught a little bit of
The Antlers
They had a lot of fans in the audience. Good stuff.
Dale and I made a friend on the inside and ran into him on the outside:
I loved his look. Nice cardigan! He was really cold, though.
Next post will be all about The Black Keys. I got great photos because we somehow got backstage! Well, technically we were side stage but the side stage served as backstage or VIP area. Does that make sense? No?
WELL SCREW YOU!
I am sorry for yelling at you. That was rude. Please come back when I post the new pics.
In Other News:
*The Black Keys post will be my last in the SXSW 2010 series. I have many other stories and pictures to share that have nothing to do with hipsters and live music.
That is all.