SXSW 2010: Day Three (Night Show)
On day three of SXSW I knew that I wanted to check out
Royal Bangs
.
Patrick Carney
of
The Black Keys
released their album on his record label (Audio Eagle) so I was curious.
(You know I love me some Black Keys. You should too.)
Here they are....Royal Bangs from Knoxville, Tennessee:
For about 15 minutes, I was right by the stage taking photos and enjoying the show. The lead singer has a great voice and their drummer was fun to watch.
Dale, Jeff, and Lee hung back by the bar. When I returned to the fellas,
Dale said "guess who I was just talking to?"
"Who?" I asked
"Patrick Carney" he replied.
Shit.
I looked around and sure enough, Patrick was right by the bar. See-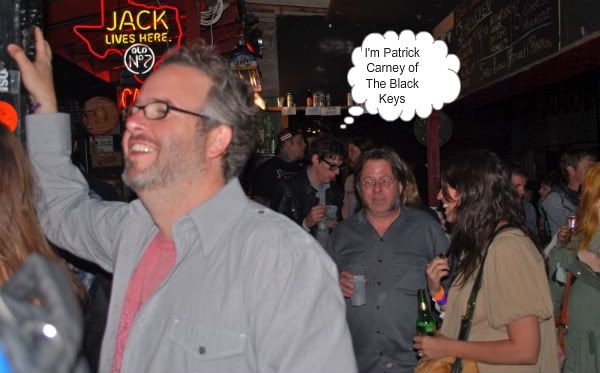 I did not want to approach him so I made Dale take a picture of us like this instead: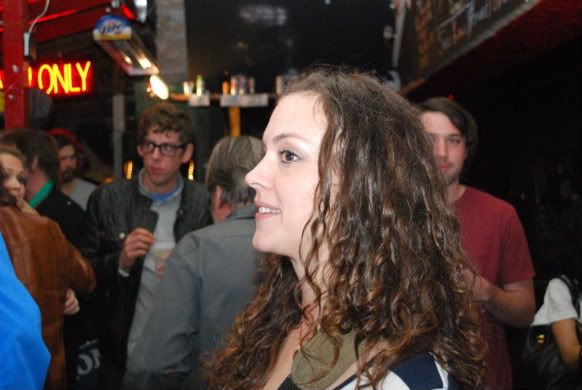 And then, I ran into some friends. I suggested that we take a picture together. Hey, it's another opportunity to get a picture with Patrick. Watch as I point at him-
At this point, the miller lite had worked it's way deep enough into my blood stream to make me think I should go up and meet Patrick. I walked up to him, stuck my hand out for him to shake, and said "hello, my name is Sarah. Could I please take a picture with you?" I did not make eye contact. I think my head was tilted slightly towards the floor. I'm not sure why I was so awkward and nervous, but I was. I mean, I have been listening to this fella play his drums since
The Big Come Up
was released back in 2002.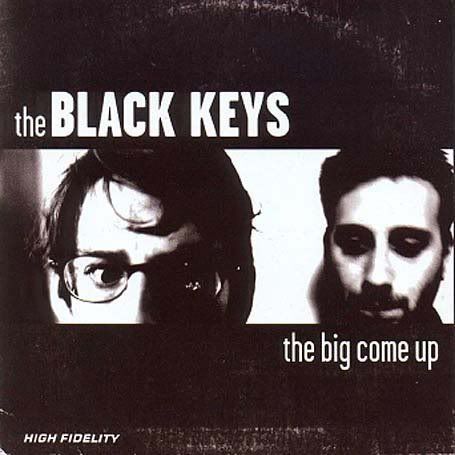 Pat (I think I'll call him Pat, now) was very nice. He said, "sure" and proceeded to smile for the photo. After the flash went off and the moment was over, he clapped me on the back and said, "alright then" or something like that. I mumbled a thank you and scooted away like a dork-ass.
Here is the pic: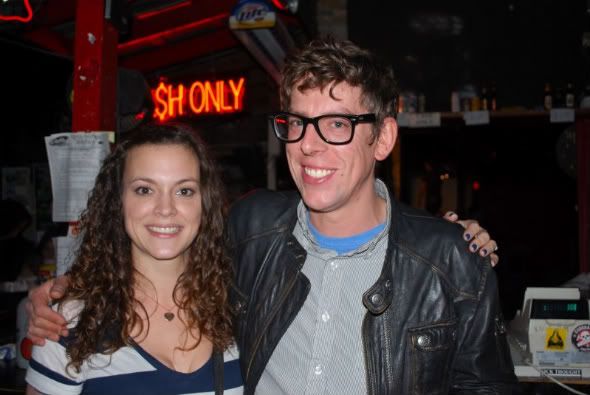 He's all cool with his head cocked to the side and his cheshire grin. I look like I am constipated.
I will now divert you from my bad photo with these four pics:
Jeff knows people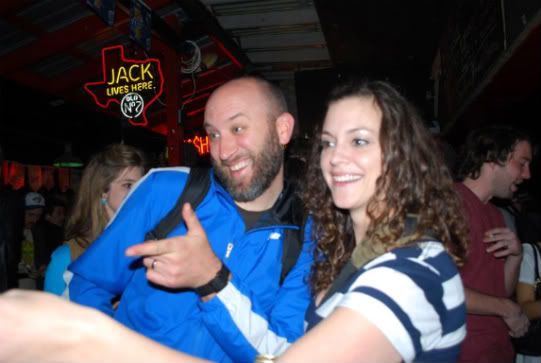 Shoot to kill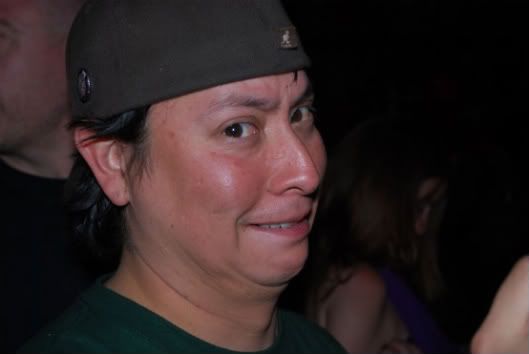 Lee can make his chin disappear
Jeff can make his face crooked
In other news:
Yesterday, my friends Cody and Marna tied the knot. I wore a pretty pink dress. Pics to come.
My sister and her family stayed with me over the weekend. I bought her 3 and 5 year old girls their very own wigs. One is pink and one is purple. Pics to come.
Tomorrow is my birthday. I think I will celebrate over the weekend.
That is all.