Toe No!
Oh little pinky toe
how I need you so.
You provide some extra balance
and help me walk, to-and-fro.
Now that I have broken you
my heart is filled with woe,
for I can not wear a cute shoe
on my left foot- Oh NO!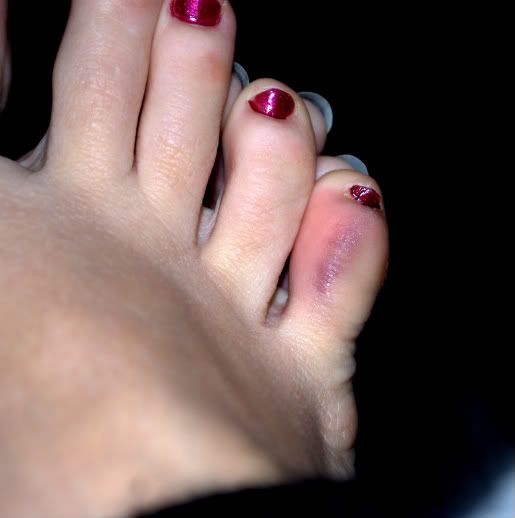 So I was walking barefoot at a brisk pace and I smashed my foot into a door stopper that is placed in a spot where there is no door to stop. Seriously, the thing is just sticking out of the wall for no reason. Now that I think of it, the AC filter/vent thingies are located above it. I guess the stopper was placed there to make sure you don't cover the vents with a piece of furniture.
I tried to convince myself that it was just badly bruised but it still hurts and I can't support my weight on it. I can't even wear a shoe on that foot as it causes pain with every careful step I take.
Today, it took me forever to get from my car to my office. I settled in for a long day of report writing, happy that I only had one class to visit since walking is such a pain in the.....well, foot. An hour into the work day, guess what happened? Yup, fire drill. I considered hiding in my office until it was over but I did not want to explain myself if the safety officer caught me. It took me a while to get up and out so by the time I exited the front door, the entire elementary/snd student body and staff were standing outside. They all had a front row ticket for the freak show....the amazing, limping, one-shoe wearing speech language pathologist!
Rachel is going to lend me her special shoe. Yay for friends!