Maybe he was flirting a little
First, here is this week's GP (It's Gratuitous Picture Of Yourself Wednesday).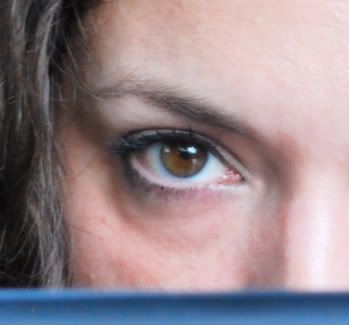 Dale took this one.
Now it's time for a story.
Last Sunday, Dale and I went to Barton Springs to enjoy the freezing waters and sunshine with some friends. We approached the gate and I handed the Barton Springs employee (gate keeper) the money to pay for our admission. Here is how it went down:
Me-"This is for the both of us" (Dale is right beside me)
Gate Keeper- "For you and me or you and him?" (he looks at Dale)
Me- *chuckle* "For me and him"
Gate Keeper- "Oh, ok."
Me- "Unless you get an employee discount...then we can talk.:
Gate Keeper- "Why yes, I do get a discount."
Dale-"I'll just be waiting over here." (Stands against the wall)
*****
I laugh, Gate Keeper gives me change, and Dale and I make our way into the pool.
Dale says- "That guy was a creep."
Me- "What? you think so?"
Dale- "uh, yeah." (Then he mimics what Gate Keeper said to me)
Me- "I thought he was funny! He was just being funny."
Dale- "right."
Me-"Do you think he was hitting on me?"
Dale- "He was a creep."
I am lucky that Dale did not point to his ring and then point to me like he has done in the past.